VA would need a staff of 4,000 to scan all its backlogged paper records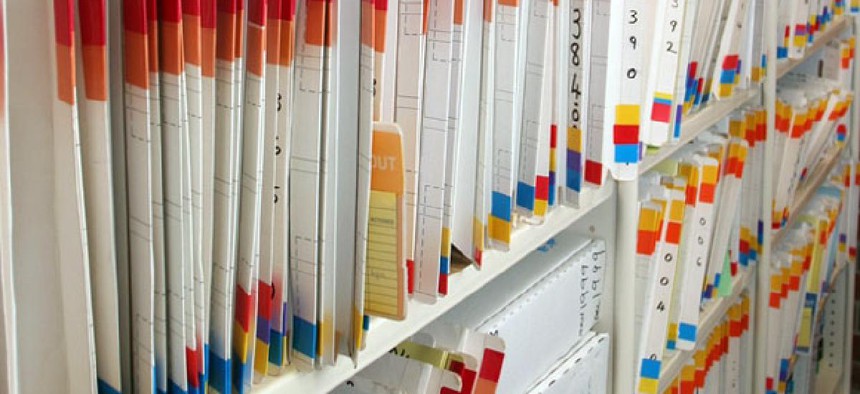 This story has been updated.

The Veterans Affairs Department would have to employ 4,000 more workers in order to scan billions of pages of paper benefit claims, William Bosanko, a top executive at the National Archives and Records Administration, told a hearing of the House Veterans Affairs Committee today.
NARA has performed sophisticated scanning operations for the department at five sites for the past two years under contracts valued at $9.7 million, Bosanko told lawmakers at the hearing. The system NARA developed for VA not only scans documents, but also has been taught to recognize and compile data from 170 different forms the Veterans Benefits Administration uses, he said. VA's contracts with NARA expires next week.
Bosanko said NARA has recommended VA seek help from the private sector for meeting its systemwide scanning requirements.
VA holds records on millions of veterans dating as far back as World War II. Bosanko estimated the department would have to scan 60 million pieces of paper a month so that records could be used with the Veterans Benefits Management System -- a feat that would require a staff of 4,000. He did not say how long the process could take.
Bosanko said NARA had little contact with senior department leadership about the scanning project until last week when Veterans Affairs sent NARA planning documents for a follow-on contract.
Jeffrey Hall, assistant national legislative director for Disabled American Veterans, said "NARA's decision to stop performing this work caught [the Veterans Benefits Administration] somewhat by surprise."
National Archives will continue to support VA in its current work -- scanning 600,000 pieces of paper a month at five sites -- and will provide expertise and insight as VA executes a new procurement, Bosanko said.
Hall is concerned that the absence of a systemwide scanning contract could delay roll out of VA's paperless claims processing system, the Veterans Benefits Management System. "The failure to properly plan for such an essential feature of the VBMS system troubles us and once again raises questions in our minds about whether there are other gaps or problems in their claims processing transformation strategy," Hall said in his written testimony.
Richard Dumancas, deputy director of the American Legion's Claims, Veterans Affairs and Rehabilitation Commission, said the largest concern looming over full deployment of VBMS is scanning claims in an electronic format. "As of right now, there are far more questions about this aspect of VBMS than there are answers," he said.
"Is VA prepared for the massive volume of scanning, with attendant optical character recognition to ensure the new electronic files are truly searchable and useful in an electronic operating environment? Which files are to be scanned? Will only new files be electronic? Will files be converted to electronic when new actions are initiated on that file? Who will provide that scanning? Will there be a scanning division set up in every regional office, or will it be centralized? Will there be hybrid files, combining electronic and paper documents, and how will those files be handled?" he asked.
"The problem with so many questions looming is there has been little in terms of a definitive response from VA as to the long-term plan that would answer these questions," Dumancas said. "A lot of weight is riding on getting the electronic scanning portion of this system done right, so ambiguity in this area is deeply distressing."
VA did not respond to a query from Nextgov on how it plans to handle its massive document scanning requirements.
(Image via Chris Hellyar/Shutterstock.com)