Forest Service calls in Air Force tankers to battle Colorado fires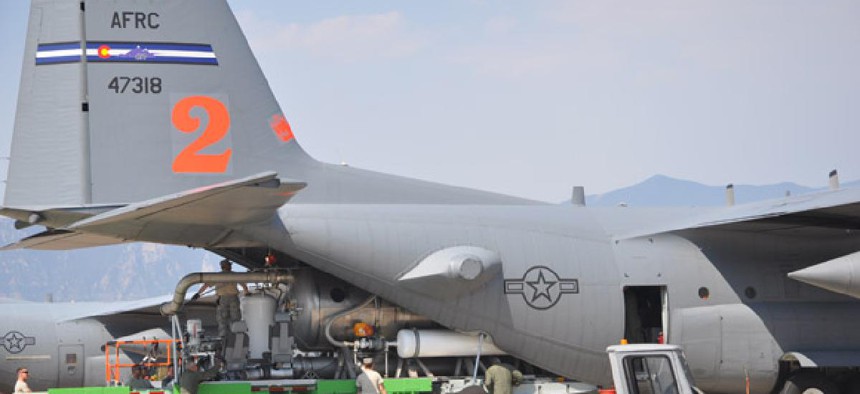 Federal wild land fire managers have unleashed their largest aerial weapons to fight a blaze encroaching on Colorado Springs, Colo.: four Air Force C-130s that can dump 3,000 gallons of retardant in five seconds.
The Colorado Springs fire has edged within five miles of the Air Force Academy and caused the evacuation of 4,825 people from 2,599 homes, as well as road closures -- including the road to the top of Pikes Peak.
The C-130 aircraft are equipped with Forest Service-owned modular airborne firefighting systems that consist of palletized pressurized tanks connected via two tubes to discharge valves located on either side of the rear cargo doors. MAFFS can douse an area a quarter mile long and 60 feet wide with retardant.
Two of the MAFFS-equipped C-130s come from the 302nd Airlift Wing, Air Force Reserve, Peterson Air Force Base, in Colorado Springs, and the other two from the 153rd Airlift Wing, Wyoming Air National Guard, Cheyenne, with all four flying fire missions from Peterson.
Forest Service Chief Tom Tidwell said, "We are mobilizing MAFFS to ensure that we continue to have adequate air tanker capability as we experience very challenging wildfire conditions in Colorado and elsewhere in the Rocky Mountain and Southwest regions."  
Last week, the Forest Service added three advanced air tankers to its fleet. Tidwell said the agency now has 21 large air tankers and more than 300 helicopters to battle fires, which already have churned through hundreds of square miles of the Southwest since May.
Though the Colorado Springs fire has consumed only eight square miles since it started Sunday -- compared to a fire in Southwest New Mexico that has burned through 464 square miles since May -- fire managers view it as a serious threat due to "the complexity of the terrain, variable winds and heavily populated areas nearby," noted spokesman Dave Grossman. He said number of personnel fighting the fire jumped from 450 Monday to 600 Tuesday.
Grossman said the fire has spread north since Monday and is now five miles due west of the Air Force Academy. John Van Winkle, an Academy spokesman said the school has turned over its airfield to support operation of firefighting helicopters.