Forest Service adds advanced tankers to fire-fighting fleet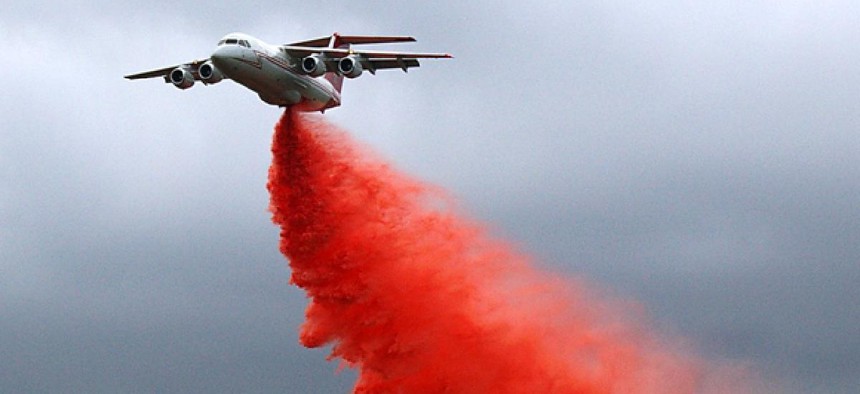 The Forest Service awarded contracts yesterday to add three next-generation air tankers to help battle a series of large wildfires churning their way through hundreds of square miles in the drought-parched Southwest.
President Obama signed legislation yesterday authorizing the tanker contracts and the White House said it is part of a strategy to modernize the firefighting air tanker fleet, which consists of vintage Navy P2V patrol aircraft more than five decades old.
Under the contracts, the Forest Service said it will add three converted British Aerospace-146 regional jetliners, which can carry 3,000 gallons of fire retardant, this year. In 2013 it will add two additional BAe-146s and two converted Boeing MD-87 airliners, which can carry 4,000 gallons of retardant. Dan Snyder, president of Neptune Aviation in Missoula, Mont., said his company has been flying one BAe-146 to fight fires under an old contract for the past month and will add another under the new contract in July or August.
Forest Service chief Thomas Tidwell said the new five-year tanker contracts, released for bid in November 2011 but held up in Congress, mark "a major milestone in our efforts to modernize the large air tanker fleet, which plays a vital role in wildfire suppression." He added 2012 is "shaping up as a serious fire season."
Firefighters continue to battle the largest fire in New Mexico history, a lightning-caused blaze in the Gila National Forest in the southeast part of the state. The fire has eaten its way through a 452-square-mile area, a spread of 62 miles since June 4.
The Gila Fire burned through a mostly uninhabited area and caused little property damage. Another fire in the Lincoln National Forest near the resort-town of Ruidoso, N.M., started June 4 and has spread to 59 square miles and burned 224 residential structures.
A Colorado fire 15 miles west of Fort Collins has blown through 73 miles since June 9 and damaged more than 100 buildings; it "remains an area of concern" as it moves into an area where 70 percent of the trees are dead due to a bark beetle infestation, fire managers said.
Chuck Wamack, acting manager of the National Interagency Fire Center in Boise, Idaho, said the wind-driven Ruidoso and Fort Collins fires were very damaging, but he noted so far this season, fires are running 60 percent below a 10-year average.
The Forest Service now has a total of 16 large air tankers in its inventory, including tankers provided by Alaska and Canada under interagency and international agreements, Mike Ferris, a fire center spokesman said. The Alaska and Canada air tankers are CV-580s, converted post-World War II airliners that can carry 2,000 gallons of retardant.
Ferris said the fire center has on standby a mammoth converted DC-10 air tanker that can drop 12,000 gallons of retardant on a fire in 8 seconds.
Wamack, a Bureau of Land Management employee, said tanker assets are managed through the electronic Resource Ordering and Status System, which displays all firefighting equipment on local, regional and national levels. If local fire managers lack tankers, they can use ROSS to locate them in the region or nationally.
Another system, Automated Flight Following, allows fire managers to locate tankers in real time. The Web-based application enables tankers equipped with GPS receivers to transmit their locations over satellite links.
The fire center has a discrete block of aviation frequencies by which to manage tanker aircraft. Control of the tankers is done on an "eyeball" basis that's backed up by voice communications, Wamack said.
Asked to predict the extent of forest fires the rest of this year, he said he would be happy to do so in November, after the end of the fire season "as we are dealing with mother nature."