Top tech official calls for new panel to help liberate government data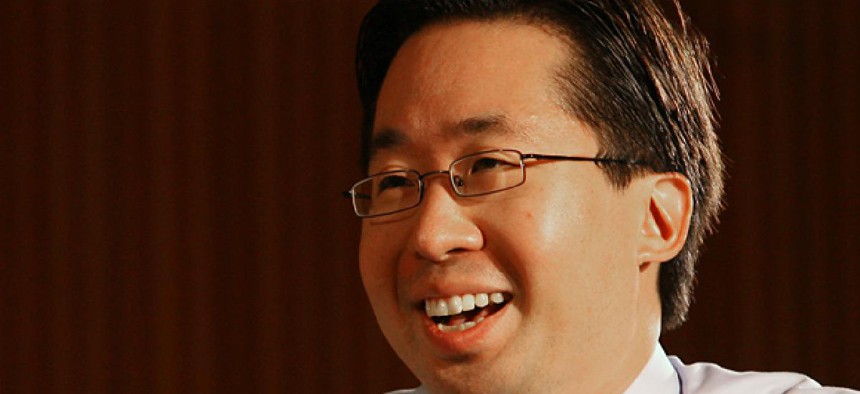 Federal Chief Technology Officer Todd Park called on the White House's team of science and technology advisers Friday to create a special subcommittee to advise his office on projects to disseminate government data to private sector developers and entrepreneurs.
Park envisions the subcommittee of the President's Council of Advisors on Science and Technology operating similar to a corporate board, he told PCAST, with members from inside and outside the council offering insights from their fields.
PCAST co-chairman Eric Lander endorsed the subcommittee idea. Lander is director of the Broad Institute, a joint initiative of Harvard and the Massachusetts Institute of Technology aimed at using genetic and biological research to transform medical practices.
Park's office is leading numerous projects such as code-a-thons, aimed at turning government-gathered data into new products and services, and "data paloozas," focused on showcasing those new products.
The initiatives will be aided by the White House's new Digital Strategy, which calls on agencies to make as much data as possible public and machine-readable through application programming interfaces -- APIs -- and other tools.
Park was previously CTO at the Health and Human Services Department, where he led the Health Data Initiative, which linked HHS data about Medicare claims, hospital mortality rates and other topics with private sector entrepreneurs and application developers.
Park's office is using the Health Data Initiative as a model for related initiatives in energy, safety, education and the nonprofit sphere with perhaps more to come, he told PCAST members.
The Energy Department already is gathering developers through an Apps for Energy challenge, which is aimed at building apps that use open electricity data from the department's Green Button Initiative.
Park's office plans to showcase newly developed energy, education, safety and nonprofit apps at data paloozas in late summer, he said.
"We've found a lot of folks can't appreciate the data until they see it being used in context," he said. "Equally importantly, there are folks in government who are skeptical about data liberation . . . With the Health Data Palooza, we made a point of inviting government data owners to the [events] so they could see that there's a massive upside to liberating their data."
Park advocated open data initiatives as a way to spur the economy and improve federal services without a major government investment.
"The total taxpayer expenditure to build those services: nada; not a dime," he said of products stemming from the Health Data Initiative. "All we did was take data the taxpayers were already paying for and jujitsued it into the public domain, made it machine readable and then educated people it was there. The innovators did the rest of it at blinding speed."
Government developers also are working on a new Red Button Initiative, Parks said, modeled on Energy's Green Button Initiative and the Veterans Affairs Department's Blue Button Initiative, designed to give veterans online access to their health data.
The Red Button Initiative will be aimed at giving college students and graduates online access to their transcripts and student loan information, he said.