How the US is using open-source intel to track Russia's war in Ukraine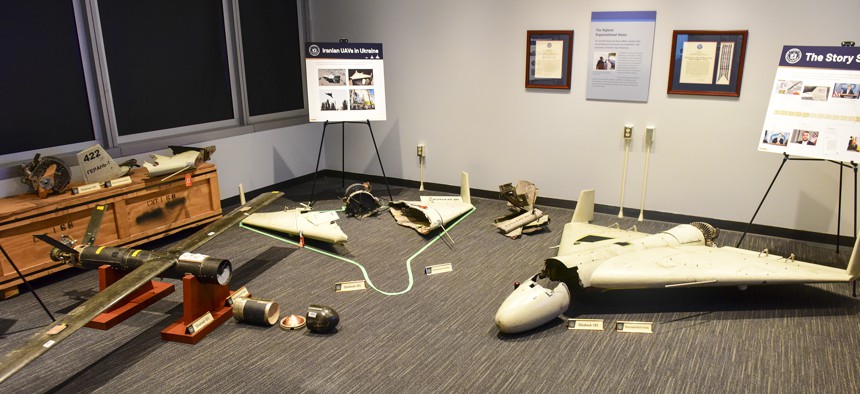 Analysts are moving beyond who-what-when-where to "really focusing on the why," a senior defense intelligence official said.
The Pentagon's lead military intelligence agency has been relying on public and commercially available information to keep tabs on Russia's movements in Ukraine. 
The Defense Intelligence Agency recently invited a small cadre of reporters to view recovered remnants of unmanned aerial vehicles made in Iran and used by Russia in its war on Ukraine, noting that open-source intelligence has played "an outsized" and "critical" role.
"When we get a requirement, in this case, monitoring the Russian military and their aggression, the general public around the world is our source," a senior defense intelligence official told reporters. "There's a lot more data outside in the world than there is that the IC's collected, and so we're getting better organized to use it, and it's paying great dividends to understand what's happening."
The White House has flagged increased defense ties between Iran and Russia, and DIA confirmed Russia was using Iran-made drones earlier this year. Iran admitted last year that it sent Russia drones before the war started, but denied continued involvement, despite reports and public accusations that it was sending materials and working with Russia to build a factory. The declassification is part of a broader push to reduce disinformation, officials said. 
Analysts walked reporters through recovered drone parts from the Middle East and Ukraine that were known to be Iran-made, identified by things like device design, markers, materials, such as a distinct "honeycomb" lining found between the devices' layers, and corroborated classified intel with information that had already been made public.
News reports in April 2022 were the first indication, defense intelligence officials said. But one of the key uses of open-source intelligence is inspiration. 
Making such attributions is routine intelligence work, but for the DIA, stitching together data from open source intelligence is more novel.
"Almost everything…from Ukraine is open source, like we were picking that up off of social media...those pieces had come out in such a way the public had already seen them be attributed to them to Ukraine, and they knew where that they were. So it was hard to have disinformation against that," the analyst said, referring to an unclassified visual report on Iran-made UAVs in Ukraine. 
"We were able to then match up our classified photographs in the way that like, no one's going to look at that Shahed-136 in Kyiv and say, 'oh, that was somewhere else, that was Yemen'."
The DIA stood up the Open Source Intelligence Center almost four years ago, and has since worked to craft open source intelligence, or OSINT, collection and analysis as a formal discipline. The data often comes from social media, news reports, and commercially available databases, among other sources with a focus on foreign military targets.  
"This isn't a typical product for us. We don't normally come out and release this type of information," the analyst said of the open-source report. "It was what social media, the press, that you guys were able to provide us, we were able to quickly match it with what we had in the classified side and come out with a product like this…There was a lot of unique value that just was not possible in an earlier era."
In a way, social media platforms and news organizations provided credibility to the intelligence DIA and other government agencies were collecting—something that wasn't possible more than a decade ago. But combining other types of intelligence, like human and signals, with open-source and AI algorithms, has also been crucial.
"It's been a game-changer for my analysts to go from…focusing on the who, what, when, and where, and really focusing on the why," a senior defense intelligence official said. "All of this data that we try to pull together, the open source that brings in so much richness into the environment, but also all that exquisite intelligence that we pull together, combining that and really having the effect of AI to be actually able to aggregate and winnow the information that we need to focus on."