To protect satellites, secure your networks, chief of space ops says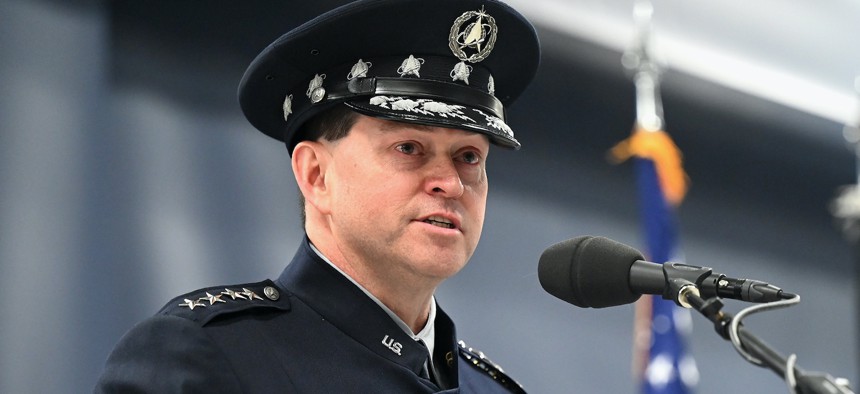 Attacks on ground networks can be "backdoor" assaults on the space-based capabilities that are key to modern warfare, Chief of Space Operations Gen. Chance Saltzman told reporters Tuesday.
"Satellites in space are not useful if the linkages to them and the ground network that moves the information around that you get from satellites is not assured, is not capable, is not accessible," Saltzman said at the Pentagon during a media roundtable. "I think it's a reminder that…if we're not thinking about cyber protection of our ground networks, that we may have a backdoor, if you will, to negate satellite operations without counter-satellite operations.…There's other ways to attack these systems."
Saltzman, who took the reins of the fledgling Space Force in November, recently released what he calls the service's three lines of effort: "fielding combat-ready forces," "amplifying the guardian spirit," and "partnering to win." 
For the first, he noted that "just because we have the right systems in orbit or the systems on the ground, doesn't necessarily make it a ready force."
That concept has been shown in Ukraine, Saltzman said: "I think the Russians had, on paper, had very good equipment. But they didn't necessarily have the sustainment behind it. They didn't necessarily have logistics." he said.
The utility of commercial space capabilities has also been on display during the conflict, particularly the use by Ukraine of Starlink satellite internet, which "demonstrated beyond the shadow of a doubt that there's good viability for commercial augmentation" to support military operations, he said.
Finally, Saltzman said, the war in Ukraine has underscored that space and cyber "are inextricably linked."
"Right out of the gate, we saw both sides attacking satellite operations to degrade command and control. We see a lot of GPS interference to degrade those kinds of capabilities. So clearly, if right out of the gate you're trying to degrade those capabilities, you recognize that they are central to operations, that they are important to how a force fights in the modern environment," he said.