DOD plans next phase of JADC2 satellite layer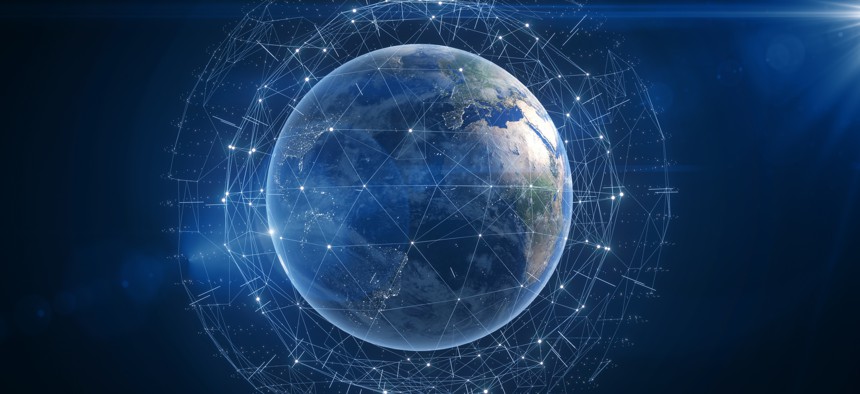 The Defense Department took a big step toward building a global satellite system to track and respond to missiles and hypersonic weapons in making three awards with a total value of $1.8 billion.
Lockheed Martin, Northrop Grumman and York Space Systems have been selected by the Space Development Agency to build a mesh network of 126 optically interconnected satellites.
The companies will build prototypes and demonstrate the effectiveness for two near-polar low Earth orbital planes out of the six planes envisioned as part of Tranche 1 Transport Layer.
Under this latest group of awards, York has received a $382 million contract for 42 satellites. Lockheed Martin will build another 42 under a $700 million contract. Northrop will deliver another 42 under a $692 million contract.
All the contracts were awarded through an Other Transaction Authority process.
Tranche 1 Transport Layer is part of the initial warfighting capability tranche of the National Defense Space Architecture. DOD is also building a tracking layer.
"These awards will drive delivery of the NDSA's data and communications transport layer through a proliferated constellation of relatively small, mass-producible space vehicles in low Earth orbit," SDA Director Derek Tournear said in a DOD release.
Tranche 1 Transport Layer builds on Tranche 0 Transport Layer and will add more capabilities and test mission-focused payload configurations. In Tranche 0, Lockheed and York built and launched 20 satellites.
DOD envisions the transport layer satellites as working with the tracking layer satellites, which are being awarded under a separate set of contracts. The tracking layer detects a threat and that data is moved to the transport layer, which collects intelligence from multiple tracking layer satellites. The intelligence is fused and a response is calculated and sent to a weapons platform via a tactical data link.
Eventually, these satellite networks will form the backbone of Joint All Domain Command and Control, or JADC2, and feature thousands of satellites around the globe.
Tournear said that to keep the satellites current and adaptable, DOD plans to create a marketplace where it is developing and buying new satellites on a two-year cycle. Old satellites can then be retired and new ones launched with a regular cadence.