Justice Department launches new unit to combat cyber threats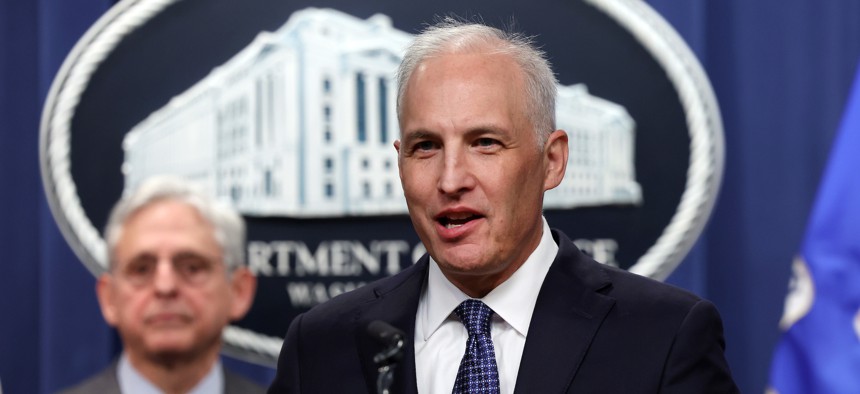 The Justice Department announced the launch of a new specialized unit on Tuesday that officials said will be leveraged in early-stage cases to disrupt malicious cyber campaigns and to prosecute nation-state threat actors and cybercriminals.   
The new National Security Cyber Section will "serve as an incubator, able to invest in the time-intensive and complex investigative work for early-stage cases," according to Matthew Olsen, assistant attorney general for national security. 
Olsen said in a statement that the new litigating section will allow the Justice Department's national security division "to increase the scale and speed of disruption campaigns and prosecutions" for state-sponsored cybercriminals, associated money launderers and other threat actors across the cyber landscape. 
As a litigating section, the new team will provide legal assistance and other resources nationwide to 94 U.S. Attorneys' offices and 56 FBI field offices. The Justice Department said the national security cyber section will also help to improve collaboration between its Criminal Division's Computer Crimes and Intellectual Property Section and the FBI's Cyber Division. 
The new cyber section is an outgrowth of a July 2022 review by Deputy Attorney General Lisa Monaco which found that the department's National Security Division Counterintelligence and Export Control Section had just three prosecutors specifically tasked with investigating, disrupting and deterring nation-state cyber threats.
Last month, the Justice Department announced it had conducted a court-authorized operation called MEDUSA to disrupt a sophisticated malware campaign linked to a unit within Russia's spy agency, and unsealed multiple indictments against a Russian national for allegedly participating in conspiracies to deploy numerous ransomware variants targeting law enforcement and government agencies, as well as schools and hospitals. 
Olsen also noted in remarks this week at the Hoover Institution that the Justice Department charged three Iranians involved in a ransomware campaign last year that targeted hospitals and governments worldwide, and obtained a 20-year prison sentence for the cybercriminal behind an espionage campaign that targeted U.S. and European aviation companies.
"We are holding individuals accountable, imposing consequences and using our indictments to inform the public about the nature of the threats we face, and our adversaries that their actions are not as deniable as they'd like to think," Olsen said.