Biden promises 'overwhelming focus' on hack recovery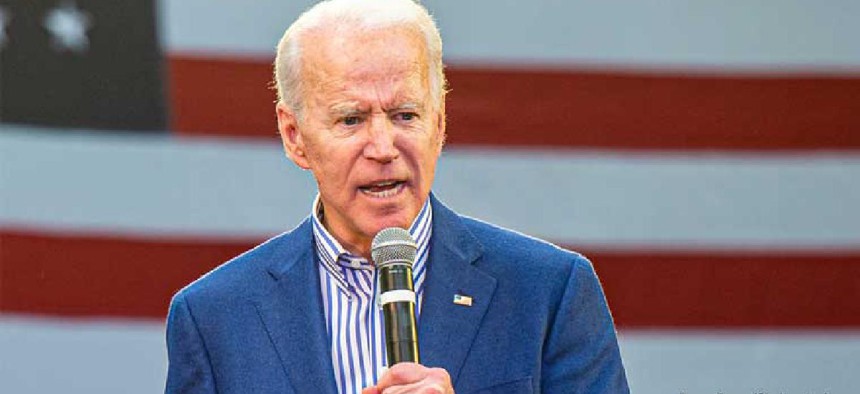 President-elect Joe Biden, in prepared remarks and a subsequent press conference in Delaware today, called out the Trump administration for failing to prioritize cybersecurity in general, and for "downplaying the seriousness" of the ongoing breach that has hit multiple federal agencies.
Biden pledged an "overwhelming focus" on recovery from the SolarWinds hack, adding that the price tag for mitigation could be in the billions of dollars, and said that the perpetrators would have to answer for the breach.
Asked if the attack is an act of war, Biden said it is a "grave" threat to the United States and the public "can be assured that we will respond [to the attack] and probably respond in kind," Biden added.
"The Trump administration failed to prioritize cybersecurity," Biden said. "It did that by eliminating or downgrading cyber coordinators in both the White House and at the State Department, the firing of director of Cybersecurity and Infrastructure Security Agency, to President Trump's irrational downplaying of the seriousness of this [recent] attack. Enough is enough. In an age when so much of our lives are conducted online cyberattacks must be treated as a serious threat by our leadership at the highest levels."
Biden urged the administration to formally attribute the attack to the responsible actor. So far, Attorney General Bill Barr and Secretary of State Mike Pompeo have indicated that Russia's foreign intelligence service is likely responsible for the attack. However President Donald Trump cast doubt on Russia's responsibility, suggesting on Twitter that the attack could have come from China.
The president-elect also said that international cooperation was a priority and called for the U.S. and allies to work toward, "an international system" for "appropriate behavior in cyberspace and get us all to get to the point where we...all hold any other country liable for their breaking out of those basic rules."
Biden today also said he has seen "no evidence" to suggest the federal government has the cyberattack "under control," as Trump suggested in a tweet over the weekend. Biden noted that the Defense Department refuses to brief his team on the extent of the breach, an issue that Biden's team and the Pentagon have been publicly feuding about in recent days.
Biden thanked "prominent Republicans in the Senate particularly for speaking out." He added: "It's a sign, a sign that with a new administration, we can confront these threats on a bipartisan basis with a united front here at home. That should be encouraging to the American people and a warning to our adversaries."
As the government continues to discover new consequences of hackers breaching agency networks, analysts and lawmakers have begun talking about the importance of not only fixing the backdoor vulnerability in SolarWinds, but also removing any persistent threats hackers may have delivered.
Vimesh Patel, a technology adviser at World Wide Technology and formerly an official at the National Counter Terrorism Center, said it is unlikely federal agencies will ever have certainty that remnants of the hacking campaign have been removed
"I'm not sure the federal government will be able to know definitively. It's just the nature of cybersecurity and advanced threats coming from other nations against us," he told FCW.
Wyden warns on theft of encryption keys
Hackers that breached the Treasury Department through an IT management software suite accessed "dozens of email accounts" and systems used by Treasury's "highest-ranking" officials, according to a Democratic senator.
"According to Treasury staff, the agency suffered a serious breach, beginning in July, the full depth of which isn't known," Sen. Ron Wyden (D-Ore.), ranking member of the Senate Finance Committee, said in a Dec. 21 statement following a briefing from Treasury and IRS officials.
Microsoft alerted the agency that the email accounts were compromised, he added.
"Additionally the hackers broke into systems in the departmental offices division of Treasury, home to the department's highest-ranking officials. Treasury still does not know all of the actions taken by hackers, or precisely what information was stolen," he said.
also said there's no evidence to suggest the IRS or taxpayer data was compromised. Treasury Secretary Steven Mnuchin said Monday morning that he does not believe classified systems were compromised.
Wyden and Sen. Sherrod Brown (D-Ohio) sent a letter last week to Mnuchin seeking answers about what information may have been compromised by a hacking campaign believed to have delivered malware to thousands of organizations worldwide via a backdoor vulnerability in SolarWinds Orion software.
"Finally, after years of government officials advocating for encryption backdoors, and ignoring warnings from cybersecurity experts who said that encryption keys become irresistible targets for hackers, the [U.S. government] has now suffered a breach that seems to involve skilled hackers stealing encryption keys from USG servers," Wyden said.