DHS veteran Mayorkas tapped to lead agency under Biden administration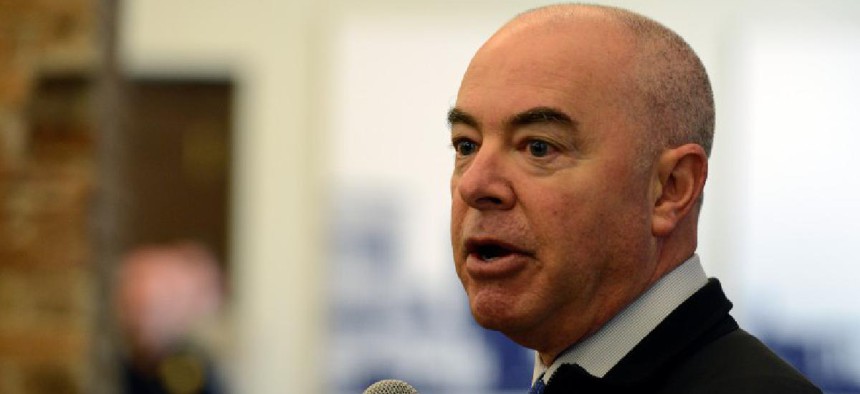 The former USCIS director and DHS deputy secretary Alejandro Mayorkas will lead the Department of Homeland Security.
Alejandro Mayorkas, to be nominated to lead the Department of Homeland Security under the Biden-Harris administration, shown at an agency event in 2016. (Photo credit: Petty Officer 3rd Class Lora Ratliff / U.S. Coast Guard)
President-elect Joe Biden tapped Alejandro Mayorkas to serve as secretary of the Department of Homeland Security.
If confirmed by the Senate, Mayorkas would be the first Latino and immigrant to lead the diverse and complex organization. Mayorkas has a long history at the agency he's been chosen to lead.
"When I was very young, the United States provided my family and me a place of refuge," Mayorkas tweeted following Biden's announcement. "Now, I have been nominated to be the DHS Secretary and oversee the protection of all Americans and those who flee persecution in search of a better life for themselves and their loved ones."
The news of the appointment was part of a raft of planned national security nominations, including Antony Blinken to serve as Secretary of State, Avril Haines to serve as Director of National Intelligence and Jake Sullivan to serve as National Security Advisor.
Mayorkas was DHS deputy secretary in the Obama administration from 2013 to 2016. Prior to that, from 2009 to 2013, he was director of U.S. Citizenship and Immigration Services (USCIS), where he helped prepare USCIS for a flood of new data expected under the Obama administration's 2012 Dreamer program, which lifted the threat of deportation from undocumented minors who had been brought to the U.S. by their parents.
When he moved to the DHS head office in 2013 as deputy secretary, he advocated for the agency's automated information-sharing structure to send and receive cyber threat indicators in near-real time to help the government and industry prevent cyber intrusions.
In 2015, he won a Federal 100 award for his cybersecurity work at DHS, including his leadership after the emergence of the Heartbleed cybersecurity vulnerability that allowed hackers to get around encryption on federal networks.
He also led the redesign of the Visa Waiver Program to better monitor emerging threats with travel authorization data, while still allowing the program to allow travelers from participating counties to come to the U.S. without a visa.
When Mayorkas left DHS in 2016, then-DHS Secretary Jeh Johnson also praised him for leading the agency's Unity of Effort campaign, designed to harmonize the approach to procurement across DHS agencies.
His tenure at USCIS wasn't without controversy. A 2015 Office of Inspector General report stated that while he was at the agency, he exerted "improper influence" in EB-5 processing for green cards for some wealthy foreign entrepreneurs involved in U.S. projects.