3 Essential Steps to Help Ensure Data Protection in the Mobile Workforce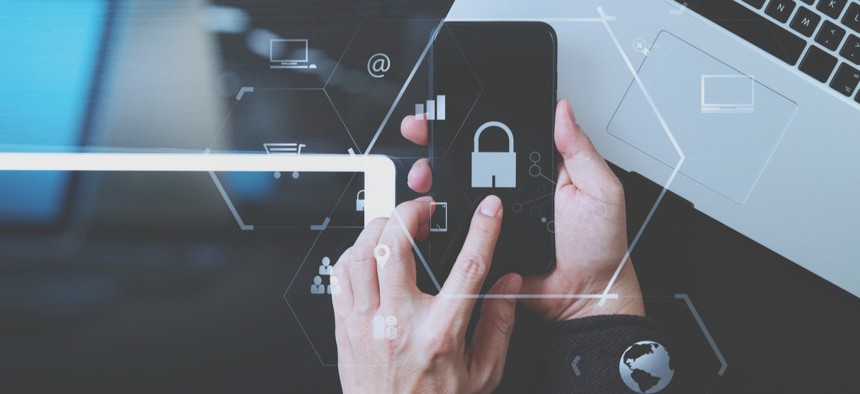 Federal agencies can protect their most valuable assets by taking security measures at multiple touchpoints.
For today's mobile workforce relying on mobile devices to communicate and share data, the threat of cyberattacks can be overwhelming and the challenges to protect sensitive information may seem insurmountable. However, there are critical steps federal agencies, that manage countless confidential documents and proprietary data, should take to help safeguard themselves from cyber threats and breaches. 
The cybersecurity movement is already underway: 59% of agencies reported having processes in place to communicate cyber risks across enterprises. From avoiding phishing scams to securing budgetary communications between federal agencies, below we discuss three top priorities when working to avoid cyber risks and security threats. 
Protect Your Data
One of the first steps in reducing the risk of cyber threats is to protect the data on the mobile devices used throughout your organization. Storing digital information in a safe manner greatly reduces the risk of cyber threats. There are many ways to enhance data protection such as encrypting data at rest using an Opal Storage Specification to help prevent unauthorized users from gaining access to the data, using secure-only Wi-Fi networks for the enhanced security of both personal information and confidential documents, as well as simply setting timers and log-on parameters. If access is attempted too many times, or a file has been open for too long with zero activity, organizations can put in place disk wiping or other secure measures to protect any data from being stolen.
Protecting confidential data is the first line of defense when considering your organization's cybersecurity protocols. Data breaches alone can cost organizations up to $3.9 million and up to $150 per record lost according to the Ponemon Institute, which categorizes the U.S. as the most expensive country to endure a breach. Whether implementing more complex encryption technologies or requiring that teams are accessing data via secure, password-protected Wi-Fi networks, data protection is crucial in reducing the risk of cyber threats and the pitfalls that could follow.
Protect Your Networks 
Protecting the internal agency networks themselves is the next step in addressing cybersecurity challenges among mobile devices. As devices connect to various agency Wi-Fi and cloud networks, organizations need to define specific constraints and allowances when it comes to those networks. Security measures can include using virtual local area networks and geofencing to connect devices limited to a certain geographic area. 
Additionally, once initial protections are in place, organizations can opt to carry out network segmentation, which splits wireless networks into subnetworks, each with a set list of employees who can and cannot join. This practice not only boosts security, but can also boost performance among specific departments. With the unfortunate prevalence of cyber threats, mobile devices are only as secure as the data and network protections put in place to secure organizational information. Especially as it becomes more commonplace for employees to access business information on personal devices, it is crucial for internal agency networks to be highly protected.
Protect Your Device(s)
Last but definitely not least, protecting mobile devices is the final barrier to protecting your agency's information. Among best practices to physically secure mobile devices is multifactor authentication, which can come in both biometric and behavioral forms. As of 2018, 93% of federal agencies have enforced usage of Personal Identity Verification cards to promote effective identity, credential and access management according to a Federal Cybersecurity Risk Determination Report and Action Plan. Along with multifactor authentication, agencies should attribute role-based access controls for device users, and as roles and infrastructures change, federal agencies must improve and adopt their security functions in conjunction to internal reconfigurations. As roles change within an agency, it is important to recheck and potentially wipe devices of data to help ensure the appropriate information is on each user's device. Lastly, federal employees must do their best to not leave mobile devices unattended, as that automatically increases the chance of mobile threats.
The security of data in the digital age is critical. Defending your agency's sensitive, proprietary information warrants more than protecting one aspect of an agency's IT infrastructure. Security measures must be implemented at multiple touchpoints: from the data storage to the networks to the devices your employees use every day, agencies must approach data protection holistically to reduce the risk of cyber breaches. While each component is important unto itself, when agencies look at the bigger picture and collaborate to assess vulnerabilities to protect confidential information, they can reduce their risk and focus on the missions that matter most. 
James Poole is the director of federal sales at Panasonic System Solutions Company of North America.