Shutdown could last 'years,' Trump says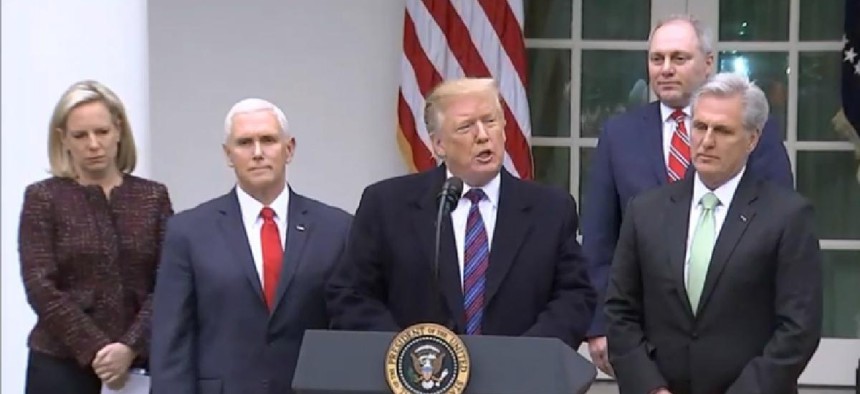 The safety net for federal workers on the job without pay or furloughs is "having a strong border" the president said in a Jan. 4 news conference.
President Donald Trump said the partial government shutdown could last "years" and didn't have much to say to repeated questions about concerns over federal employees working without pay or on furlough.
Asked about a safety net for feds looking at months or years without a paycheck, Trump said, "The safety net is having a strong border because we're gonna be safe."
Trump also said several times that federal employees affected by the partial government shutdown were supportive of the goal of building a border wall, and he cited leaders of a union representing about 16,000 Border Patrol personnel as his sole example.
"The people that won't get next week's pay or the following week's pay, I think if you ever really looked at those people, I think they'd say, 'Mr. President, keep going, this is far more important,'" Trump said.
On a call with reporters earlier in the day, Jacques Simon, policy director for the American Federation of Government Employees, sought to distance the national organization from the position taken by the Border Patrol union.
"Our sole duty is to our members and their pay and their jobs, no matter what some of our members think about Mr. Trump's agenda," Simon said.
Trump, speaking in the Rose Garden after a White House meeting with congressional leadership from both parties, also said that he thought landlords and others would take the shutdown into account. "Hey, I've been a landlord for a long time … they work with people," the president said.
Trump also said he'd "consider" asking senior officials to forego $10,000 annual pay raises set to take effect on Jan 5. These cover the vice president, cabinet secretaries, deputy secretaries and other top officials. Vice President Mike Pence, whose pay is slated to rise about $13,000, indicated that he'd decline the pay hike.
Trump was joined in the Rose Garden by Pence, House Minority Leader Kevin McCarthy, Minority Whip Steve Scalise and Homeland Security Secretary Kirstjen Nielsen. Senate Majority Leader Mitch McConnell attended the White House meeting but did not join fellow Republicans for the press conference.
House Speaker Nancy Pelosi said the meeting was "lengthy and sometimes contentious," and added, "We really cannot resolve this until we open up government, and we made that very clear to the president."
Trump ruled out the plan backed by House Democrats to pass six of the seven outstanding appropriations bills and put Homeland Security on a continuing resolution while negotiations continue.
"We won't be opening until it's solved," Trump said. "We won't be doing pieces. We won't be doing dribs and drabs."
Trump announced that Pence is going to lead a White House team of negotiators to work over the weekend to arrive at a plan to reopen the government.
"I think it's going to be over sooner than people think," Trump said.
It's not clear what wiggle room there is on Trump's demands for $5.6 billion for a wall on the U.S.-Mexico border, but there were some references  to border technology including cameras, drones and other aircraft, improvements to ports of entry and scanning equipment to assist in the interdiction of drugs and contraband, and at certain points Trump elided the distinction between a fence and a wall. The House bill to reopen the government contains funds for the upgrading and repair of existing fencing.
Trump also indicated that in the absence of a deal, he could build the wall on his own by declaring a national emergency -- although such a declaration involves cooperation from Congress.
Rep. Ted Lieu (D-Calif.) offered a "translation" of Trump's remarks via Twitter.
"I want a face saving way out so just give me something I can call a Wall to my base (who will believe whatever I say) even though it's a fence or maybe steel slats but in San Diego but not California and also I'm a drone expert."