Trump's Lack of 'Moral Infrastructure' Causes Cyber Advisers to Resign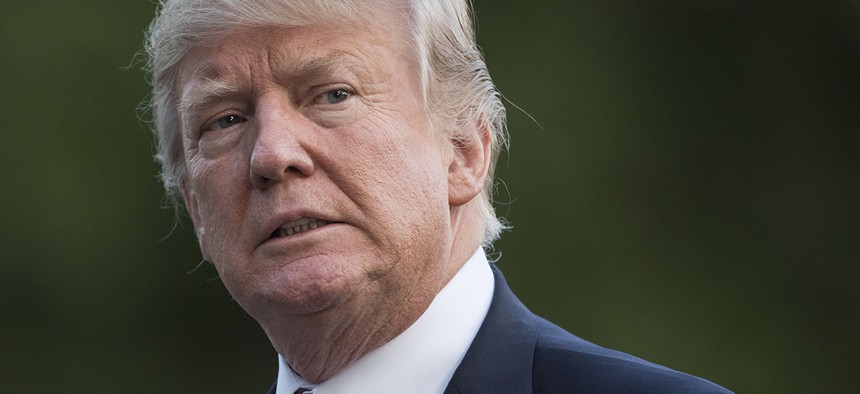 Board members also condemned the president's response to racist violence in Charlottesville, Virginia.
More than one-quarter of a panel tasked with advising the Homeland Security Department on cybersecurity and infrastructure protection resigned en masse Monday, citing President Donald Trump's "insufficient attention" to the nation's cyber vulnerabilities, among other complaints.
Resigning members of the National Infrastructure Advisory Council also cited the president's failure to single out neo-Nazis and white supremacists for condemnation after a violent protest earlier this month in Charlottesville, Virginia.
"The moral infrastructure of our nation is the foundation on which our physical infrastructure is built," the council members stated in a group resignation letter.
» Get the best federal technology news and ideas delivered right to your inbox. Sign up here.
The resignation letter, obtained by Nextgov, also cites Trump's decision to withdraw from the Paris climate change agreement and to revoke building standards related to flooding risk.
"Your actions have threatened the security of the homeland I took an oath to protect," the letter writers tell the president.
The resignations come after Trump disbanded two business advisory councils earlier this month following a wave of resignations by chief executive officers. Those CEOs similarly condemned Trump's response to the violence in Charlottesville.
The former infrastructure council members particularly faulted Trump administration efforts to ensure the digital security of election systems.
"You have given insufficient attention to the growing threats to the cybersecurity of the critical systems upon which all Americans depend, including those impacting the systems supporting our democratic election process," the letter states.
Former Homeland Security Secretary John Kelly continued an Obama administration effort to shift federal resources to shore up the cybersecurity of state and local election infrastructure following Russian efforts to meddle in the 2016 election. Kelly also stuck with an Obama-era decision to label election systems critical infrastructure—an official Homeland Security Department designation that makes it easier to commit federal resources to protecting them.
Trump, however, has repeatedly questioned whether that meddling occurred and if Russia was responsible for it.
Among the resigning council members are three Obama-era officials: White House Chief Data Scientist DJ Patil, Office of Science and Technology Policy Chief of Staff Cristin Dorgelo, and White House Council on Environmental Quality Managing Director Christy Goldfuss, according to Twitter posts.  
In total, eight out of 28 NIAC members' names were removed from the official members web page this week.  
Remaining council members met Tuesday and approved a report on cybersecurity vulnerabilities to critical infrastructure. That report warned that U.S. infrastructure is in "a pre-9/11 moment" when it comes to cybersecurity.