Trump taps Gordon to be principal deputy in ODNI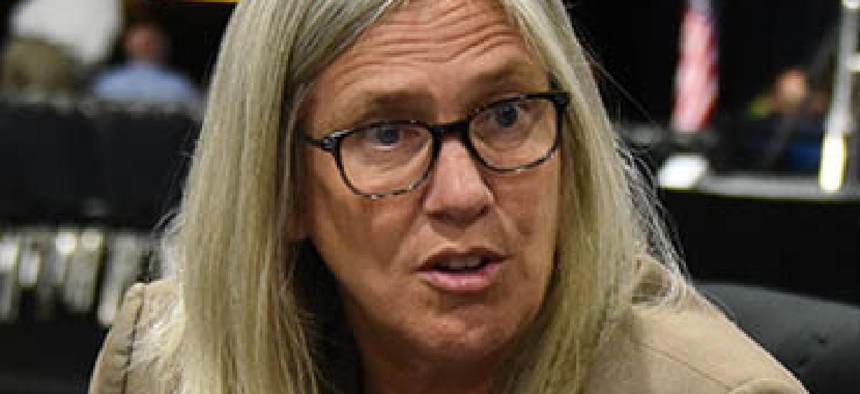 Current NGA Deputy Director Susan Gordon is a career intelligence official who helped create In-Q-Tel and has been a key driver of ICITE.
Susan Gordon has been nominated to be principal deputy director of national intelligence.
Susan Gordon, who has spent her entire professional career working for intelligence agencies, is poised to add another agency to her lengthy resume as the Trump administration's nominee to be principal deputy director of national intelligence.
Since January 2015, Gordon has served as the deputy director of the National Geospatial Intelligence Agency. One of her roles at NGA was to support the Intelligence Community Information Technology Enterprise, one of the major IC information sharing initiatives led by ODNI.
Gordon spent the bulk of her career at the CIA, which she joined in 1980 as an analyst in the Office of Scientific and Weapons Research in the Directorate of Intelligence.
From there, she advanced to hold numerous positions in the agency, including executive assistant to the executive director of the CIA, director of special activities in the Directorate of Science and Technology, director of the CIA's Information Operations Center and senior cyber advisor to the CIA director.
Gordon held those last two positions concurrently, and according to the White House "was responsible for fully integrating advanced cyber capabilities into all of CIA's mission areas, while protecting against the cyber threat to the CIA's information, operations, and officers."
Gordon has focused heavily on innovation, acquisition and public-private partnership in her career and led the creation of In-Q-Tel.
"I have been involved in acquisitions ranging from huge collection systems to a few lines of unique code," she told the Intelligence Geospatial Forum in a July 2015 interview.
"This taught me about both rigor and flexibility in acquisition," she continued. "I delivered the concept that became In-Q-Tel—from idea to incorporation by a group of private citizens. This taught me a lot of lessons about how innovation happens in government—and that we can make big ideas happen in a very short time with enough energy and the right partners."
Retired Gen. Michael Hayden, who headed both the CIA and the National Security Agency, told FCW, "the entire intelligence community quietly exhaled when Sue's name was announced. There could not have been a better choice. Period."  Hayden was the first to hold the PDDNI position, serving under then-Director of National Intelligence John Negroponte from May 2005 to May 2006.
Current DNI Dan Coats also praised the pick.  "I am very pleased that President Trump announced today his intent to nominate Susan Gordon to be the Principal Deputy Director of National Intelligence," Coats said in a press release. "With [her] background, she will be well-positioned to help lead intelligence integration and find innovative approaches to solve challenges as PDDNI."
"I know Sue well, and I am pleased that the President is nominating her to this crucial post," said Senate Intelligence Committee Chairman Richard Burr (R-N.C.) in a press release. 
"Her unmatched expertise on cyber issues will help the DNI lead our Intelligence Community's efforts to collect on, and protect against, the growing number of threats to our nation," he said.