Kelly Defends Cuts to Science and Tech Budget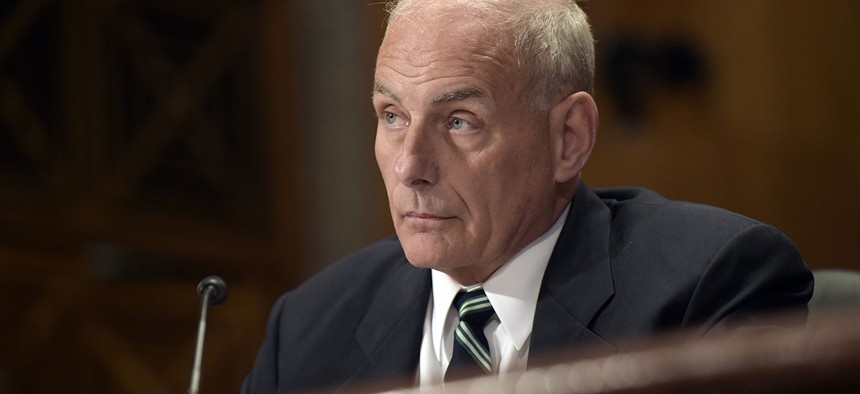 The Homeland Security Department plans to make up for a roughly 20 percent proposed funding cut at its Science and Technology Directorate by relying on research and development from other government labs and the private sector, Secretary John Kelly told lawmakers Wednesday.
The department's science and technology wing funds the development of numerous cybersecurity tools, often focusing on tools the private sector is unlikely to develop on its own or investing seed money into projects developed at universities and national labs.
Cuts in DHS' science and technology office were balanced with funding boosts at the department's cyber operations wing and elsewhere in government.
» Get the best federal technology news and ideas delivered right to your inbox. Sign up here.
"There are, we believe, other laboratories developing technologies that we can plug into," Kelly told lawmakers during a House Homeland Security Committee budget hearing.
"The idea is that we would rely on other laboratories doing certain work so we'd cut out the redundancies," he added.
The budget includes a $74 million cut to DHS' National Cybersecurity Protection System, known as Einstein, which provides cyber protections to agencies across government. DHS expects to increase Einstein spending in the future and the cut does not suggest a lowered long-term investment in the system, Kelly told Rep. John Ratcliffe, R-Texas, who chairs the committee's cybersecurity panel.
The budget includes a $4 million boost for DHS' Continuous Diagnostics and Mitigation program, the department's other main governmentwide cybersecurity system.
As with all White House budgets, the president's request is merely a blueprint that will likely be heavily modified by Congress.
Kelly reiterated comments he made to the Senate Homeland Security Committee on Tuesday that DHS plans to question state election security officials about whether the department should rethink a decision from late in the Obama administration to designate election systems as critical infrastructure.
State officials, including governors, and both Democratic and Republican members of Congress have criticized that decision, Kelly said, though he stressed it only allows DHS to aid state and local election officials with cyber protections upon request.
"The idea is it's voluntary," he said. "If you think we can help, come ask us and we'll try to help you … By no means do we have any intention or desire to move to take over any state processes or tell the states how to do business."
Former DHS Secretary Jeh Johnson made the designation after hackers linked to Russian intelligence services allegedly probed state voting systems without penetrating them. The National Association of Secretaries of State called on DHS to rescind the designation in February.