Intel Leaders Shoot Back at Trump's Mean Tweets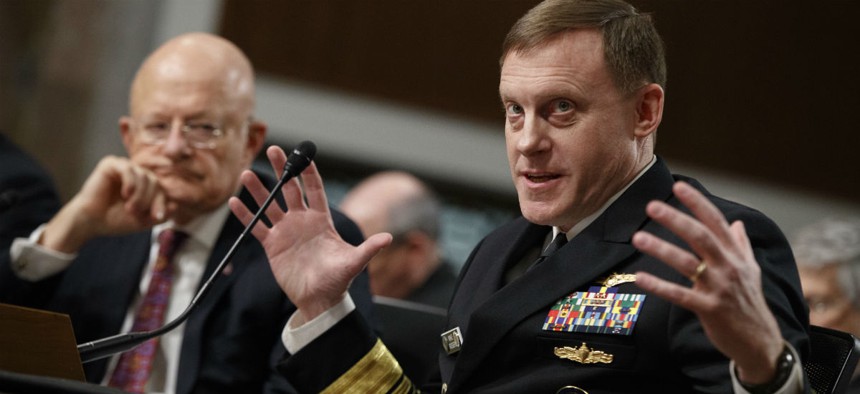 U.S. intelligence leaders bristled Thursday at President-elect Donald Trump's mean tweets about the community's conclusion Russian government-directed hackers meddled in the 2016 presidential election, suggesting the president-elect went far beyond expressing mere healthy skepticism.
Trump's deriding of the intelligence community's conclusions and capabilities could undermine Americans' faith in what government knows during future national security crises, the officials and some lawmakers warned during a Senate Armed Services Committee hearing.
They could also damage the morale of intelligence agents and analysts and perhaps drive some away from government service, the officials said.
» Get the best federal technology news and ideas delivered right to your inbox. Sign up here.
"I don't want to lose good, motivated people who want to help this nation because they feel they're not generating value … I just don't want to be in a situation where our workforce decides to walk," National Security Agency Director Adm. Michael Rogers told lawmakers.
Trump claimed intelligence leaders delayed briefing him on the election hacks in a Tuesday tweet, putting the word "intelligence" in quotes and suggesting: "perhaps more time needed to build a case. Very strange!" Intelligence leaders deny there was a delay and say they always planned to brief Trump Friday.
The president-elect has previously said he believes political motivations lie behind the intelligence community's conclusion that top levels of the Russian government directed hacking operations at Democratic political organizations.
Vice President-elect Mike Pence defended Trump's comments as "very sincere and healthy skepticism about American intelligence conclusions," during a Wednesday appearance with congressional leaders, and Trump tweeted Thursday,  "The media lies to make it look like I am against 'Intelligence' when in fact I am a big fan!"
Outgoing Director of National Intelligence James Clapper suggested to lawmakers Thursday, however, that Trump's comments went beyond the healthy skepticism that should greet all intelligence conclusions, saying, "I think there's a difference between skepticism and disparagement."
"I do think public trust and confidence in the intelligence community is crucial," Clapper said later, adding, "I've received many expressions of concern from foreign counterparts about the disparagement of the U.S. intelligence community."
Asked if Trump's comments had dispirited intelligence agents and analysts, Clapper replied, "I haven't done a climate survey, but I hardly think it helps."
Clapper is more confident the Russian government was behind breaches at the Democratic National Committee and of Hillary Clinton Campaign Chairman John Podesta's emails than he was when the intelligence community first made that attribution in October, he told lawmakers.
Clapper plans to deliver an assessment of election hacking dating back to 2008. Obama is being briefed on that report this afternoon, White House Press Secretary Josh Earnest said. Clapper plans to brief congressioanl committees on the report early next week, he told lawmakers.
That report will ascribe "more than one motivate" to Russian meddling in the 2016 campaign, he said, but declined to discuss the question of motivation further.
The report will also describe a "multifaceted" Russian campaign to undermine the election that also included fake news reports and disinformation and that continued after the election contest concluded, Clapper said.
"I don't think that we've ever encountered a more aggressive or direct campaign to interfere with our election process than we've seen in this case," Clapper said.
The intelligence community's confidence in its conclusions has improved dramatically since its much-publicized incorrect assessment about whether Iraq had developed weapons of mass destruction before the 2003 U.S. invasion, Clapper insisted.
"It's a difference of night and day," he said.
Trump has cited the WMD failure to raise doubts about the intelligence community's Russian hacking conclusion.
"Whatever else you want to say about the intelligence community, it is a learning organization and we do try to learn lessons," Clapper said.
Clapper also criticized WikiLeaks leader Julian Assange whom Trump cited in a tweet saying Russia was not the source for hacked DNC and Podesta emails released to his organization.
Asked by Armed Service Chairman John McCain whether there's "any credibility you'd attach to [Assange] given his record," Clapper replied, "Not in my view."
Assange has previously said WikiLeaks does not closely vet the people who leak information to it and it's unlikely WikiLeaks could definitively determine whether a third party that turned over the emails had ultimately received them from the Russian government.
Several lawmakers also criticized Trump's comments, including Sen. Lindsey Graham, R-S.C., and incoming Intelligence ranking member Sen. Claire McCaskill, D-Mo.
By undermining confidence in intelligence agencies, Trump may make it harder on himself when he uses their conclusions to justify his own actions, Graham said.
"I want to let the president-elect know, it's OK to challenge the intel," Graham said. "You're absolutely right to want to do so. But what I don't want you to do is to undermine those who are serving our nation in this arena until you're absolutely sure they need to be undermined. I think they need to be uplifted, not undermined."