Senators Demand Criminal Investigation into Russian Election Hacking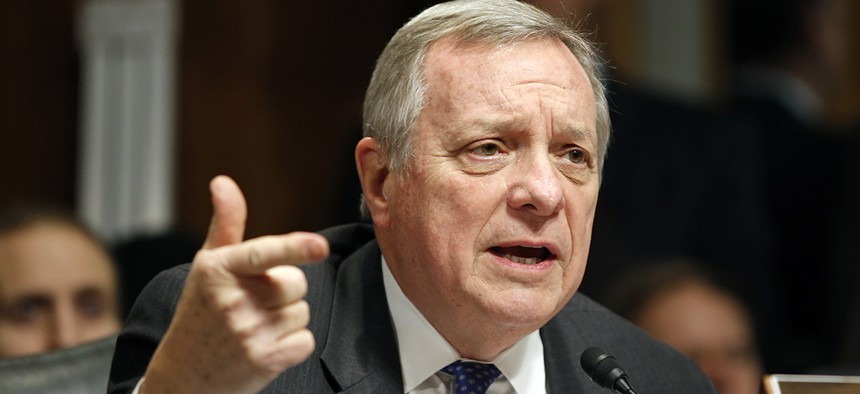 The demand joins a trove of investigations and requested investigations related to the hacking.
Nine Democratic senators are urging a criminal investigation into Russian cyber meddling in the 2016 election, the latest development in a series of demands and counterdemands that has consumed the capital in recent days.
The senators, led by Minority Whip Dick Durbin, D-Ill., are also asking Director of National Intelligence James Clapper to produce a formal report known as a "national intelligence estimate," describing the scope of Russian interference in the election. They're asking for the classified estimate, along with an unclassified annex, before President Barack Obama leaves office in January.
The senators cite a Friday Washington Post report that Russia's end goal in breaching the email system of the Democratic National Committee and Hillary Clinton campaign chair John Podesta was specifically to advantage President-elect Donald Trump rather than simply to sow chaos. The report was based on anonymous intelligence officials and has not been officially confirmed.
» Get the best federal technology news and ideas delivered right to your inbox. Sign up here.
Intelligence and Homeland Security officials attributed the political hacks to the top levels of the Russian government in October but did not speculate about motive.
"Threats to our national security and the sanctity of our democratic process must not become hostage to partisanship and narrow political interests," the senators wrote. "We know that Russia continues to make a concerted effort to undermine democratic institutions in the West and we fear we have fallen victim to their agenda. Such an attack on the United States must not go undisclosed."
Other signatories include Sens. Ben Cardin, D-Md., ranking member on the Senate Foreign Relations Committee, and Patrick Leahy, D-Vt., outgoing ranking member on the Senate Judiciary Committee and future ranking member on Appropriations.
The senators' request joins a long line of investigations and requested investigations. On Friday, Obama ordered the intelligence community to complete a review of election-related cyber meddling dating back to 2008 before he leaves office.
Senate Majority Leader Mitch McConnell, R-Ky., has also endorsed a congressional investigation into the hacking led by the Senate Intelligence Committee. McConnell opposes a broader congressional review favored by many Democrats while House Speaker Paul Ryan has yet to endorse a review of any kind though he condemned Russia's actions.
House Intelligence Chairman Devin Nunes, R-Calif., has come out against any intelligence committee-led investigation, which he said would be duplicative of work already being done.
That position stirred consternation on Tuesday among top House Democrats who released a statement calling for a broader investigation.
"Given the gravity of these unprecedented attacks by a foreign state, we need a congressional investigation that is truly bipartisan, that is comprehensive, that will not be restricted by jurisdictional lines, and that will give the American people a complete and full accounting of what happened consistent with safeguarding our national security," the letter states.
It was signed by Nunes' ranking member Adam Schiff, D-Calif., and Democratic Whip Steny Hoyer, D-Md., as well as ranking members of the House Oversight, Judiciary, Armed Services, Homeland Security and Foreign Affairs committees.
Trump, meanwhile, has steadfastly insisted Russia was not responsible for the election breaches and said the intelligence community's determination otherwise was politically motivated.
A transition team statement on the Russian hacking claims Friday said "these are the same people that said Saddam Hussein had weapons of mass destruction," adding "it's now time to move on and 'Make America Great Again.'"