Senator Sounds Insider Threat Alarm After NSA Contractor Arrest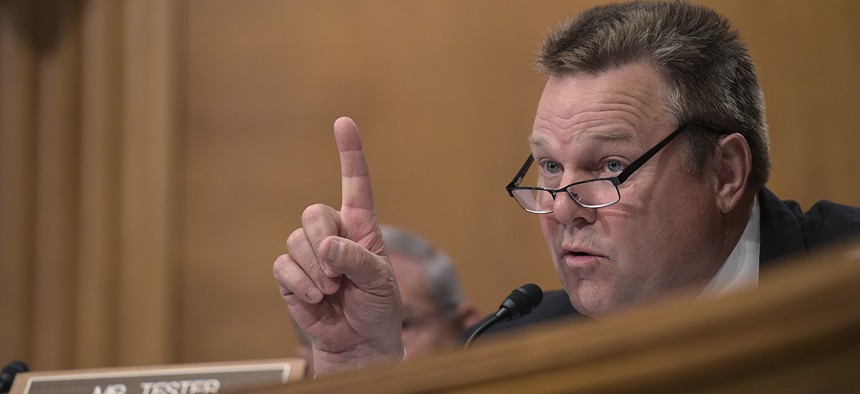 The arrest of the latest NSA contractor follows high-profile leaks by Snowden, Manning and others.
Sen. Jon Tester, D-Mont., wants to know why a security clearance system that allowed Edward Snowden and Pvt. Chelsea Manning to steal classified information wasn't sufficiently fixed before the latest National Security Agency rogue was able to do the same, according to a letter sent today to NSA Director Adm. Michael Rogers.
The Justice Department arrested NSA contractor Harold Martin III, 51, in August and publicly accused him Oct. 5 of stealing classified information from the agency, including information classified at the highest level. Investigators found classified information in a sweep of Martin's house in both paper and digital formats, according to an affidavit in the case.
"While law enforcement is still seeking Martin's motivations, I am concerned that the process of his vetting–or lack thereof–may have once again exposed the vulnerabilities of our security clearance process to insider threats," Tester wrote.
» Get the best federal technology news and ideas delivered right to your inbox. Sign up here.
Government employees and contractors cleared to access classified information are typically only reinvestigated every five to 10 years to see if they should retain that clearance.
Intelligence agencies have experimented with more timely systems such as continuously evaluating public records about employees, including legal cases, public financial information and social media posts, but those programs have not been widely implemented.
"I am troubled that Martin's arrest once again exposes the significant gaps that continue to exist in our security clearance process," Tester wrote.
The letter seeks information on Martin's employment history, when he was first granted a security clearance and when he was last reinvestigated. Tester also asks if Martin's job required him to have access to the files he's accused of stealing.
Martin has only been charged with stealing confidential documents so far, not with sharing those documents with the public. Officials suspect, however, that he's involved in the online release of a cache of NSA hacking tools, including tools to break through computer firewalls and steal or modify information, according to a New York Times report.
Tester is seeking either a response letter or a classified briefing from NSA. The agency did not immediately respond to a Nextgov request for comment on the letter.