What To Know About 'The Cyber' From The First Presidential Debate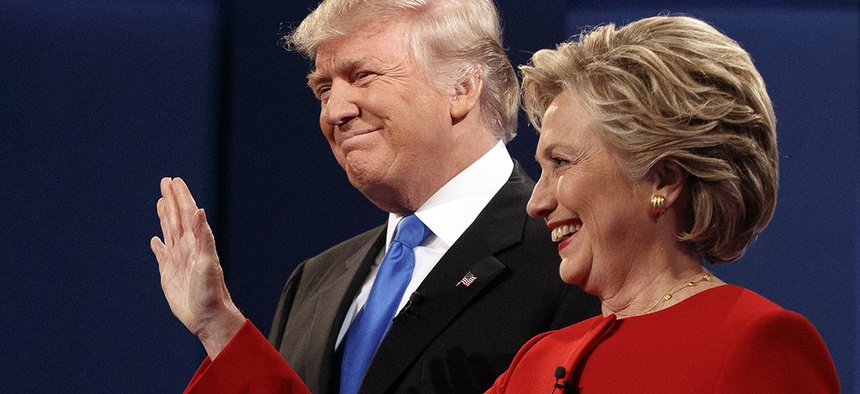 The presidential nominees agree that the nation's cybersecurity will be a priority for the winner of the November election. And that's where the agreement ends.
During the "Securing America" segment of Monday's presidential debate, Democratic nominee Hillary Clinton and Republican nominee Donald Trump offered some of their thoughts—and colorful quotes—on who is attacking U.S. institutions and how to fight them.
» Get the best federal technology news and ideas delivered right to your inbox. Sign up here.
Here's what we learned:
Clinton said the nation faces two types of cyber adversaries: hacking groups motivated by profit and "increasingly" states.
Clinton attributed the Democratic National Committee email breach to Russia, a step the White House has not publicly taken despite pressure from lawmakers.
Trump questioned whether Russia orchestrated the DNC breach, offering China or "someone sitting on their bed that weighs 400 pounds" as alternatives.
Clinton shared a positive view of the nation's cyber capabilities: "We need to make it very clear, whether it's Russia, China, Iran or anybody else, the United States has much greater capacity. And we are not going to sit idly by and permit state actors to go after our information, our private-sector information or our public-sector information, and we're going to have to make it clear that we don't want to use the kinds of tools that we have."
Trump appeared to have doubts: "As far as the cyber, I agree to parts of what Secretary Clinton said, we should be better than anybody else, and perhaps we're not." 
Trump's 10-year-old son Barron Trump is good with computers: "He is so good with these computers, it's unbelievable."
Trump said the U.S. has lost control of the internet: "And I think Secretary Clinton and myself would agree very much when you look at what ISIS is doing with the internet, they're beating us at our own game. ISIS. So we have to get very, very tough on cyber and cyber warfare."
Clinton suggested partnerships to avoid social media recruiting: "I think we need do much more with our tech companies to prevent ISIS and their operatives from being able to use the internet to radicalize, even direct people in our country and Europe and elsewhere."