This ISIS-Endorsed Encryption Contractor Says It Will Now Screen Who's Buying Its Services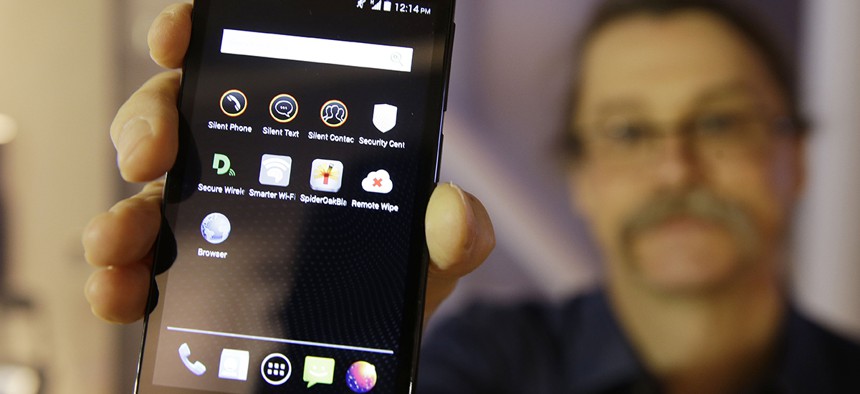 The goal is to stop terrorists from using stolen credit cards bought off the online black market, and entering bogus physical addresses to register for encryption services.
When a Pentagon communications provider heard the Islamic State had informed adherents that his firm's secure messaging app was the best tool to evade government surveillance, the moment of reckoning arrived. 
The Wall Street Journal on Tuesday reproduced an ISIS guide that rated 21 chat apps as "unsafe" (i.e. Facebook's WhatsApp), "moderately safe" (Apple's iMessage), "safe" (Wickr) or "safest" (Open Whisper Systems' Redphone).
Silent Circle, which supports intelligence agencies, corporations and privacy-conscious individuals, was listed in the "safest" category. 
After the newspaper article came out, "we started to look and say, 'Well, Christ, anybody could buy [Silent Circle services] with a Russian stolen credit card and, really, the address of Penn Station.' That's not good stewardship," said Mike Janke, a former Navy SEAL who co-founded the Swiss-based company. 
The firm has previously acknowledged that about 1 percent of its clients abuse encryption, which renders communications indecipherable when intercepted.
Now, starting on Thursday, Silent Circle will vet subscribers using payment fraud-detection software, Janke told Nextgov in an interview. The goal is to stop terrorists from using stolen credit cards bought off the online black market, and entering bogus physical addresses to register for encryption services. 
Silent Circle is partnering with an Irish online payment startup called Stripe and a separate credit card processing software provider, he said. The firm is not releasing the name of the processing program for security reasons, Janke said. 
"There's technology from the credit card companies now that will help you know your customer a little better," he said, adding they can verify "using big data that it's a valid, not-stolen credit card... it knows if it's on a stolen card list, on the Dark Web, if that's a real address or a 7-Eleven or a bus station or a mosque."
Janke declined to discuss the types of databases the software analyzes to rule out scammers. 
Encryption Company Takes a Stand against the FBI and Terrorists
This is not the first time Silent Circle, which counts the National Security Agency and FBI among its clients, has found itself in the middle of the encryption debate. In August 2013, shortly after ex-NSA contractor Edward Snowden revealed massive domestic surveillance sweeps, the firm abandoned its Silent Mail email service to preempt any government warrants for customer information. 
Silent Circle co-founder Phil Zimmermann, inventor of Pretty Good Privacy (PGP) encryption, signed a letter  in May along with more than 100 other tech organizations and technologists that urged President Obama to reject recent U.S. law enforcement proposals aimed at weakening secure communications. 
Over the weekend, a smartphone used by one of the Paris terrorists found near the theater where hostages were shot reignited the encryption dispute. To date, no evidence has been disclosed indicating the assailants conspired with one another using digitally-scrambled messages. But FBI Director James Comey at a New York cybersecurity conference on Wednesday warned that ISIS members turn to encrypted messaging apps when they need to recruit killers, according to CNN. Comey is leading the push to require that Internet companies build "back doors" into their communications products.
Janke does not shy away from bashing the security views of his government customers or terrorist clientele. 
With the new payment screening system, "just as we thumb our nose at governments that call for back doors, we're going to put our finger in the eye of ISIS," he said.  "It's important to us that we protect individual rights but that doesn't mean we can't do something to make it harder for the evil of the world to use our technology for ill."
Silent Circle says its products are used by 38 governments, including their intelligence and customs and border patrol agencies. 
'We Are Not About the Anonymity'
The counterfraud measures will double card transaction fees for the company, Janke said.
The new tools, however, will not prevent someone from purchasing Silent Circle products on behalf of an ISIS militant. And the technology won't work with most of the other ISIS-endorsed messaging apps because the rest are nearly all free.
One of the tools, Telegram, the Daily Beast calls Islamic State's favorite chat app. On Wednesday, the company said it blocked dozens of public ISIS "channels" on Telegram, after the extremist group used the broadcasting mechanism to take credit for the October crash of a Russian airplane and the Paris attacks. 
Janke said payment processor Stripe cannot see a subscriber's username or Silent Circle phone number, and Silent Circle cannot see the subscriber's name or credit card number. Government authorities, however, can identify customers by talking to credit card companies. 
Janke says his company's technology does not exist to hide such individuals.
"We are not about the anonymity," he said. "That's not what we do. That's Tor," an online network that masks an Internet user's location and online activities. Authorities can learn if a Silent Circle user's phone is connected to another person's phone, but they cannot listen to calls or read files. 
"If you're doing something and you don't want your identity known, use Tor. We are a secure communication and privacy firm," Janke said.