Pentagon Contractors Rank Below Retailers and Banks When it Comes to Cybersecurity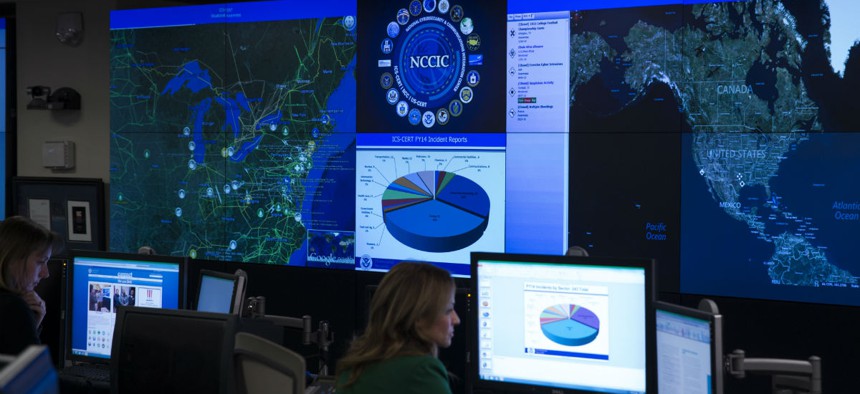 Pentagon suppliers score below hacked retailers and banks on cyber defense, according to industry-developed metrics.
Updated July 7: The post below has been updated to further clarify that BitSight's security rating of the defense contracting sector does not apply to specific companies but reflects a median score of the top 25 defense contractors. Some companies' individual scores were higher than the median, BitSight notes.
After revelations that a compromised contractor login abetted a grandiose breach of federal employees' background investigations, now comes word that Defense Department suppliers score below hacked retailers when it comes to cyber defense.
The new industry-developed cyber rankings -- and the recent Office of Personnel Management hack -- raise questions about the extent to which cybersecurity is a shared responsibility between government agencies and contractors.
"You can write a contract requiring somebody to do something. The question is, how do you enforce it? And if it's broken, what are the penalties? That's what DOD is really struggling with," said Jacob Olcott, vice president of business development at BitSight Technologies, which rates firms' susceptibility to hacks. "If you are the only organization that's building an F-35, there is only so much that the government can demand of you."
When measured in aggregate, network controls at breached J.P. Morgan Chase and Home Depot, combined with the rest of the retail and financial sectors, rated higher than the top companies supporting the U.S. military, according to BitSight. It's important to note that BitSight's rating is a median score, and some individual companies scored higher.
The defense industrial complex is one of the most regulated sectors in the United States. Similarly, background investigation providers for OPM are congressionally mandated to log access to all databases holding personal information and review the log files daily.  
But these paper policies are not working, according to security experts and recent events.
Federal officials say they cannot ascertain the extent of breaches of national security-sensitive data at OPM background checkers, USIS and KeyPoint Government Solutions, because neither had sufficient logs. The widely held assumption is that Beijing's cyberspies copied employee files, potentially to blackmail U.S. personnel and their contacts.
A Senate Armed Services Committee report released last fall alleges Chinese-sponsored attackers entered the networks of U.S. Transportation Command contractors at least 20 times from June 2012 through June 2013. 
As of last month, the median cyber score for defense contractors on a 900-point scale was 650. The higher the number, the stronger the security posture, according to BitSight. Financial institutions earned a score of 710 and retailers came in at 670. 
The metrics are derived from sensors that can detect through the public Internet infected machines, insecure configurations and other indicators of poor security. The company's proprietary algorithms analyze the severity and frequency of the problems and map the findings to a company's known networks to generate an overall rating. 
Olcott eye-witnessed agencies grapple with contractor oversight, while serving until a couple of years ago as a cyber policy staffer on the Senate Commerce Committee and before that as a House Homeland Security Committee aide.
Starting around a decade ago, "there was this recognition within DOD that these bad things were happening to all these guys, but who else can build an F-35?" he said. 
The government still is promulgating directives to try protect data stored off-premises. 
On June 18, the National Institute of Standards and Technology issued guidelines for potential contractor clauses involving the protection of sensitive "controlled unclassified" information housed outside of federal systems. The Pentagon in May 2014 released rules specific to defense contractors on counterfeit electronic parts, which aim to address the problem of suppliers inadvertently or intentionally corrupting computerized military systems. Those stipulations came on top of November 2013 contractor requirements for guarding nonpublic military technological and scientific data, referred to as "unclassified controlled technical information." 
Some big banks like Goldman Sachs, while in a different industry, have found a more hands-on way to minimize the outside supplier cyberthreat. They widely deploy external network monitoring tools and check the results, Olcott said.
"The guys at Goldman Sachs will say, 'I can't just rely on my vendors to proactively report to me when something bad is happening," he said. "'I need to know in real time what is happening with them and I need to be able to hold them accountable.'"