Cyber commander wants more offense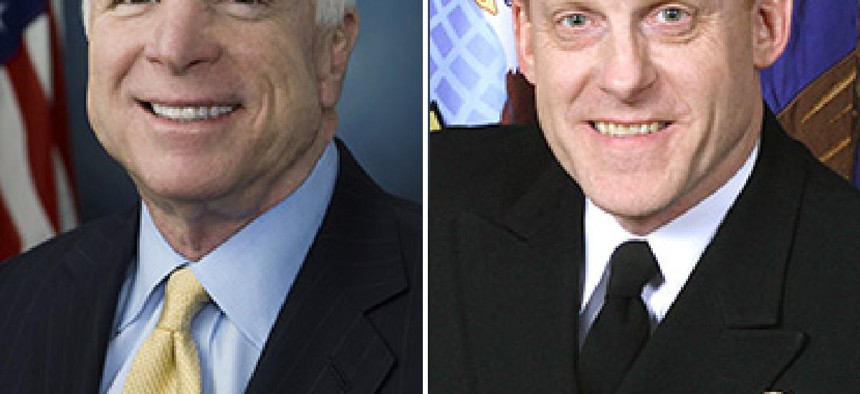 National Security Agency Director Adm. Michael Rogers calls for more offense, while Sen. John McCain blasts the administration for lack of effective deterrence.
Senate Armed Services Committee Chairman John McCain (left) and Adm. Michael Rogers (right).
The nation's top cyber official wants more offensive capabilities.
"We focused primarily on the defensive piece initially … but I think now we're at a tipping point," where more attention needs to be paid to offensive capabilities, U.S. Cyber Command commander Adm. Michael Rogers told a Senate Armed Services Committee hearing March 19.
The U.S. needs "to think about how can we increase our capacity on the offensive side," said Rogers, who is also National Security Agency director.
In previous public statements, Rogers has often been less direct in his discussion of U.S. capabilities in cyberspace. He was responding to questions from Chairman  John McCain, who blasted the Obama administration for what the Arizona Republican deemed a lack of a clear strategy for cyber deterrence.
"Right now, the level of deterrence is not deterring?" McCain asked Rogers.
"That is true," the admiral replied.
The Obama administration's fiscal 2016 budget request calls for $5.5 billion for Defense Department cyberspace operations, according to the office of the DOD CIO. About 8 percent, or $463 million, of that funding is for Cyber Command, an amount McCain criticized as insufficient.
A National Security Council spokesperson declined to comment when asked to respond to McCain's claim that the Obama administration lacked an effective deterrence strategy.  
Deterrence can conceivably come in many forms and needn't necessarily involve a form of cyber offense such as hacking back or launching a preemptive cyberattack. For example, a top Justice Department official has said that the administration's indictment of allegedly state-sponsored hackers could deter future hacking.
Nonetheless, after the devastating November hack of Sony Pictures Entertainment, Rogers called for a stronger response to such attacks, arguing that hackers faced little deterrent.
Armed Services ranking Democrat Jack Reed of Rhode Island echoed McCain's assessment by saying "we are not currently postured to deter" cyberattacks like those on Sony Pictures and Las Vegas Sands Corp., which the U.S. government has attributed to North Korea and Iran, respectively.  
Cyber Command is a "work in progress," Reed said. "It now has about half of its planned cyber mission forces, but lacks adequate training ranges and the equipment and tools necessary to plan, control, execute and assess robust military operations in cyberspace."