The Two Acronyms That are Key to Obama's New Plan to Fight Hackers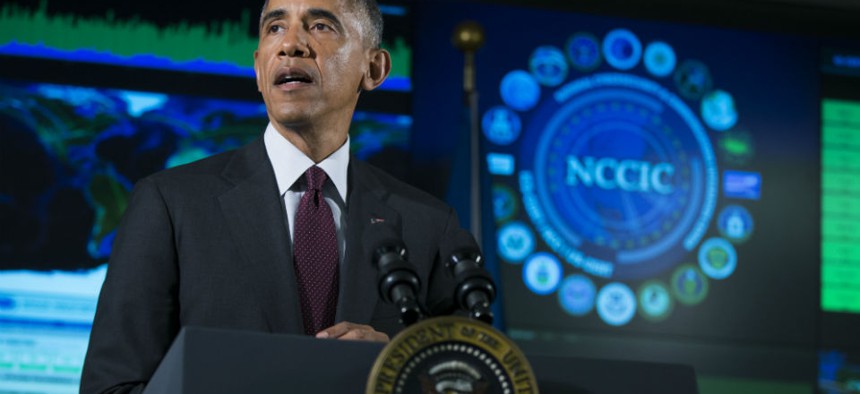 The field of cybersecurity is already rife with acronyms. But listen for a couple of key new terms at today's White House summit on cybersecurity that are essential for explaining how the government will expand information sharing with the private sector.
The event, hosted at Stanford University, is meant to physically convene company executives, private citizens and government authorities to talk about cyberspace, where spying and data breaches have been divisive issues.
The two words are STIX and TAXII, a programming language and data delivery method that are meant to bring these parties together in the virtual word. 
They offer a potential two-way street to the information sharing and collaboration that government officials, retailers and Wall Street want more of to fight cybercrimes.
There's a growing consensus that the trick to better dialogue is coming up with a technical way to obtain the latest threat data. Another element that needs work: building trust. That second issue will take time. 
There's already a bricks-and-mortar facility where information can be exchanged privately among federal entities and industry cyber specialists, a 24-hour operation called the National Cybersecurity and Communications Integration Center, or NCCIC (pronounced N-Kick). But it would be impractical for tech support teams to visit the Arlington, Virginia, building daily.
The digital fingerprints of malware need to be swiftly transmitted in a privacy-conscious format that machines can read. Are you supposed to fill out the FBI's Internet Crime Complaint Center Web form? Or send an encrypted email to the Department of Homeland Security's U.S. Cybersecurity Emergency Readiness Team? 
"STIX" and "TAXII," formats for zipping threat intelligence, can possibly help with the mechanics. 
The developers of these technologies "are heroes in my book because this really is going to change the landscape of information sharing," said Mark Weatherford, a former DHS cyber chief credited with teaching industry how to pronounce, and hence remember, the name NCCIC.
Developed by Homeland Security and Mitre, STIX and TAXII stand for Structured Threat Information eXpression and Trusted Automated eXchange of Indicator Information, respectively. 
"Sharing confidential information has been one of the things that private industry has been very leery of doing because they weren't sure they could share this kind of threat vulnerability information securely," said Weatherford, now in corporate America himself, as a principal at The Chertoff Group consulting firm. "I'm a huge fan of STIX and TAXII. I hope that it becomes that standard that we're looking for."
The Hacker's Footprints
Government has worked through the policy part of sharing information via NCCIC, says the man who opened the facility in 2009, Sean McGurk. Now, he says, the challenge is taking the valuable classified and unclassified information and rapidly making it available to the private sector.
"How do we find out about the indicators associated with the latest Anthem breach?" McGurk posits, pointing to the largest health care sector hack ever reported. 
"The FBI publishes a bulletin. Some people read it. Some people don't. A PDF is generated. It gets distributed. In the meantime my perimeter is at risk," he said, referring to every point where an organization's computer system touches the Internet. 
So, there needs to be a way for a firm's computers to automatically be updated with the newest "indicators," or telltale signs of a particular hack. This is happening inside federal agencies in the form of a governmentwide network-monitoring system called EINSTEIN. 
"Instead of looking at antivirus endpoint solutions -- which has been very popular and ineffective for years -- we need to look at the network layer," said McGurk, currently a vice president at security company Centripetal Networks. "Like an EINSTEIN-type of program, where it's actually network-based threat intelligence, and then you can apply it at the network and then everything inside that boundary receives the benefit of that protection. So it doesn't have to be on the individual computers." 
In December, the Financial Services Information Sharing and Analysis Center, an industry cyber group, began offering companies software, Soltra Edge, that helps do just that. By leveraging STIX and TAXII, the tool lets computers send and receive security intelligence. 
During today's Palo Alto, California, symposium, leaders from all walks of life will gather for cybersecurity workshops and remarks by Apple Chief Executive Officer Tim Cook, among other thought leaders. President Barack Obama also will deliver an address, as part of a larger executive branch effort to safeguard government and industry systems.
Earlier this week, the administration created a new intelligence agency to pore over spies' threat assessments of cyber risks. Thursday marked the one-year anniversary of a set of voluntary computer security standards developed by the Commerce Department.
However, some industries, particularly Internet companies that advertise consumer privacy, could do with a little less information sharing by the government. 
Information sharing by the National Security Agency uncovered through "information sharing" by ex-intelligence contractor Edward Snowden apparently does not sit well with the CEOs at Facebook, Google and Yahoo, who chafe at government requests for customer data. The three summit invitees will not be in attendance.