Federal Buildings are Vulnerable to Hacking and DHS Isn't Doing Enough to Protect Them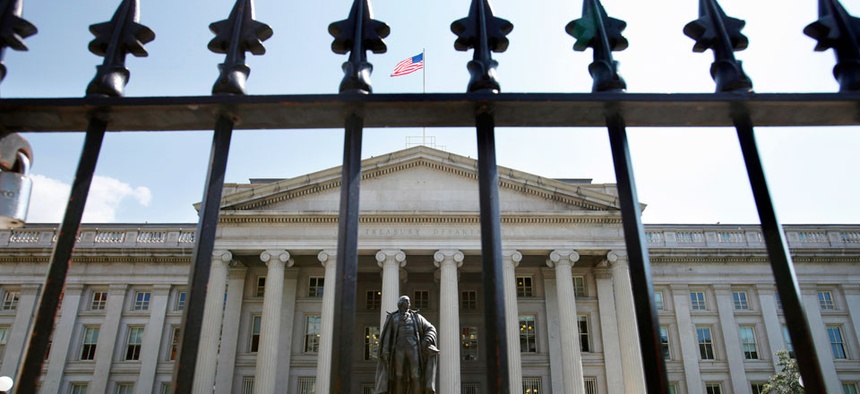 High-tech access-control systems that regulate federal facilities' electricity use, heating, air conditioning, closed-circuit security cameras and even the operation of elevators are increasingly being hooked up to the Internet, making them vulnerable to cyberattacks
Traditional federal agency computer networks are no strangers to malicious intruders.
But now, a government watchdog is warning that federal facilities themselves are at risk of being hacked.
High-tech access-control systems that regulate federal facilities' electricity use, heating, air conditioning, closed-circuit security cameras and even the operation of elevators are increasingly being hooked up to the Internet, making them vulnerable to cyberattacks, according to a new report from the Government Accountability Office.
Such attacks could "compromise security measures, hamper agencies' ability to carry out their missions or cause physical harm to the facilities or their occupants," auditors wrote in the Dec. 12 report, which was made public Monday.
Despite the potential threats, agencies tasked with securing federal facilities -- including the Department of Homeland Security -- have  taken a mostly hands-off approach to mitigating them.
DHS is still only in the preliminary stages of understanding the cyber risks to access-control systems and lacks a strategy for dealing with potential threats, according to GAO.
"No one within DHS is assessing or addressing cyber risk to building and access control systems," investigators noted -- not even at the approximately 9,000 facilities under watch by DHS' Federal Protective Service.
An official with DHS' National Protection and Programs Directorate -- the DHS component responsible for safeguarding civilian computer networks -- told auditors the agency hasn't yet developed a strategy "in part, because cyber threats involving these systems are an emerging issue," the GAO report noted.
Similarly, DHS' Interagency Security Committee, which was created after the 1995 Oklahoma City bombings to secure federal facilities, has done little to address cyber risks. The committee, which compiles a report on potential "undesirable events" that could impact government buildings is only in the draft stages of coming up with cyber guidance. 
Representatives for the committee told GAO they're currently focusing their efforts on securing facilities from active-shooter and workplace violence-type incidents.
Still, the threat from hacked federal facilities is not academic.
Take for instance a 2009 incident involving a security guard at a Dallas hospital who uploaded a malicious program onto the hospital's computers. The computer worm ended up boring its way into the systems that controlled heating, ventilation and air-conditioning for parts of the hospital.
In 2006, computers controlling Los Angeles' traffic lights were hacked, snarling traffic and wreaking havoc on commuters.
Over the past three years, incidents involving access-control systems reported to DHS have increased by 74 percent -- from 140 incidents to 243, according to GAO.
That includes a 2014 incident in which an unidentified federal agency reported a cyber incident at a wastewater treatment plant. GAO said details about that incident are "law-enforcement sensitive" and cannot be publicly disclosed.
The number of incidents could also be woefully undercounted because of fuzzy guidance from DHS.
Before October 2014, DHS instructions for reporting cyberattacks didn't specify that agencies should also report incidents involving industrial control systems -- a broader category of computer system that encompasses access-control systems. Over a period of nearly four years under those guidelines, only a single federal agency reported an incident involving industrial control systems.
DHS has since issued updated guidance to agencies emphasizing that agencies are to report incidents involving those systems.
Auditors recommended DHS come up with a strategy for addressing cyber risks in building and access-control systems and called on the building safety commission to start examining cyber risks as well. DHS agreed with the recommendations.
The so-called Internet of Things -- the proliferation of sensors and other connected devices -- is still a fledgling phenomenon in the lives of everyday Americans. But most experts predict it will continue to grow. 
The Consumer Electronics Association has predicted annual sales of so-called "smart" energy and security systems, such as Nest, will increase by 23 percent this year, hitting $574 million.
Similar computer systems have become par for the course in many federal facilities as well as in the systems that run power plants, water systems and other critical infrastructure.
The National Security Telecommunications Advisory Committee, a group of industry executives that advises President Barack Obama on technology and national security, last month issued a report warning the government to take steps to ensure sensors and other devices in critical infrastructure are secure.