China Doesn't Care if Its 'Digitalized' Military Cyberwar Drill Scares You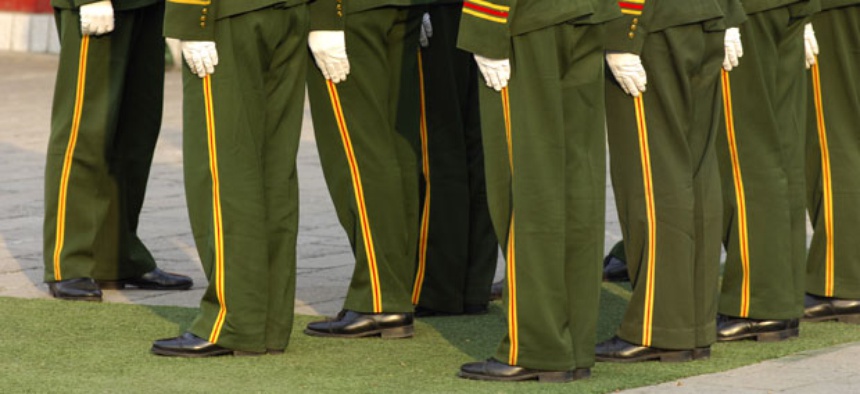 In the face of fears from President Obama to the Pentagon and across the globe about the increasing military might behind Chinese hacking, China's state news agency announced Wednesday that the nation's People's Liberation Army "will conduct an exercise next month to test new types of combat forces including units using digital technology amid efforts to adjust to informationalized war." You know, right after Obama and Chinese President Xi Jinping are meeting about the state of, among other things, a cyberwar going on underneath their noses.
The new report from Xinhua news agency adds that the drill, taking place on a large military training field and not some underground hack-a-thon bunker, "will be the first time a PLA exercise has focused on combat forces including digitalized units, special operations forces, army aviation and electronic counter forces." The terms "digitalized unit" and "electronic counter forces" don't make it at all clear what China's military has planned, but then again, no country is ever going to reveal its full cyberwarfare capabilities in detail — and it's not like it's the first time the Chinese have tested the military reaches of their digital warfare capabilities. Indeed, the U.S. was game to play along on more than one occasion. Last year it was reported that the U.S. and China had secretly engaged in at least two cyber war games in 2011, "designed to help prevent a sudden military escalation between the two superpowers if either felt they were being targeted," as ZDNet's Emil Potralinski reported. "In the first, both sides had to describe what they would do if they were attacked by a sophisticated computer virus, such as Stuxnet. In the second, they had to describe their reaction if the attack was known to have been launched from the other side."