By sending troops diagnosed with drug and alcohol addiction to 20-day treatment programs at civilian rehabilitation centers, the Defense Department is taking a Band-Aid approach to dealing with a problem of epidemic proportions, psychiatrists, former combat commanders and treatment experts on the front lines of veteran care told Nextgov .
Such a short stint at an inpatient facility can only begin to chip away at addiction and will do little to help troops cope with the combat experiences that many of them have tried to suppress with alcohol or drugs, experts said.
Combat veterans rarely talk about the experiences that sit at the core of post-traumatic stress disorder and are reluctant to share them in a civilian setting with patients who have no military service, let alone combat experience, said Jack Downing, president of We Soldier On , a Leeds, Mass.-based shelter and rehabilitation center for homeless veterans.
The facility provides beds and housing for 295 veterans, including a 39-unit apartment complex in nearby Pittsfield it developed and then sold to veterans. Residents' service spans generations, from a 92-year old WW II veteran to Vietnam veterans and about 35 who served in Afghanistan and Iraq.
Downing said the preponderance of his residents arrive addicted to alcohol and drugs, some of which have been prescribed by the Military Heath System or the Veterans Affairs Department. Recovery, he said, begins with addiction treatment and then moves on to dealing with the effects of war.
Veterans need a safe place to talk about the aspects of war that are alien to civilians, he said. " 'Did you see your buddies blown up? Did you kill a woman or a child?' These wrenching conversations work best when it's one veteran talking to another," Downing said.
Outsourcing treatment to civilian providers under TRICARE is "stupid," Downing said, because it does not provide enough time for a slow recovery process or the peer counseling he views as essential.
Dr. Mark McGovern, an associate professor of psychiatry at Dartmouth Medical School who specializes in the treatment of substance abuse disorders, said combat veterans tend to use a "fifth of scotch" to deal with combat stress and survivor guilt, compounded by flashbacks, nightmares and hyper vigilance -- all signposts of PTSD.
Treatment of what McGovern calls "multimorbidity," which includes traumatic brain injury, requires specialized care. Getting someone sober is not enough -- the military must deal with the whole package, he said.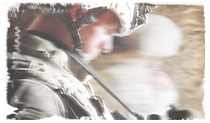 Broken Warriors is an ongoing series on mental health issues in the military.
Defense spokeswoman Cynthia Smith said the Pentagon recognizes the need to treat all these conditions, but specialized care for PTSD and TBI may not be available in a substance abuse rehab. "In the area of co-occurring PTSD and substance use treatment, there is no definitive answer as to which approach provides the best outcome [among] sequential, concurrent and integrated approaches. What is known is that PTSD and substance use disorders often co-occur and must be addressed to improve clinical outcomes for both," Smith said.
McGovern said Defense also must develop rigorous standards to evaluate treatment centers funded through TRICARE.
He noted that Dartmouth, in cooperation with the Hazelden Treatment Center in Center City, Minn., has developed a website that today lists 400 civilian rehabilitation centers that have expertise in dealing with these conditions -- an assessment based on on-site evaluations by a Dartmouth team, McGovern said.
The Army provided Nextgov a list of eight facilities that TRICARE uses to treat substance abuse, PTSD and TBI, but none appears on the list of rehabs vetted by Dartmouth and Hazelden.
There are more than 30,000 behavioral health rehabilitation facilities in the country and those evaluated by the Dartmouth-Hazelden survey represent only a small percentage of that total.
Smith said once a facility is certified by TRICARE, its quality monitoring contractor, Keystone Peer Review Organization, uses a psychiatrist, psychiatric nurse and licensed clinical social worker with a psychiatric background to conduct on-site surveys of facilities once they start taking TRICARE patients.
Retired Army Col. David Sutherland, who commanded surge operations in Iraq in 2007 and then went on to serve as special assistant for warrior and family support to Adm. Mike Mullen when he was chairman of the Joint Chiefs of Staff, said TRICARE's 20-day deadline for treating substance abuse is arbitrary and misguided. TRICARE "needs to err on the side of the patient. Treatment needs to be condition-based, not time-based," he said.
He said Defense also should ensure that troops receive continuing care after they are discharged from treatment. Ideally, such care would include a sponsor to help a service member and his or her family deal with the slow process of reintegration into society, something he is trying to facilitate through a foundation he established with Easter Seals, the- Staff Sergeant Donnie D. Dixon Center for Military and Veterans Community Services .
Dr. Stephen Xenakis, a retired Army brigadier general and psychiatrist, said the department should take a holistic approach to treating addiction, PTSD, TBI and pain.
"It makes no sense to take a silo approach to this. We need to take care of the whole soldier," said Xenakis, who plans to incorporate the practice into treatment at his newly established Center for Translational Medicine in Arlington, Va.
Judi Kosterman, a Reno, Nev.-based substance abuse consultant and chairwoman of the Public Policy Committee of the National Council on Alcoholism and Drug Dependence , agreed that the 20-day inpatient substance abuse treatment funded by TRICARE is unrealistic and that civilian rehab facilities lack the "cultural context" to deal with combat veterans.
Veterans should be treated in an environment that takes into account their war experiences and most civilian rehabs "are just not going to get it," Kosterman said.