NDAA, ZTE and the Rest of Congress' Agenda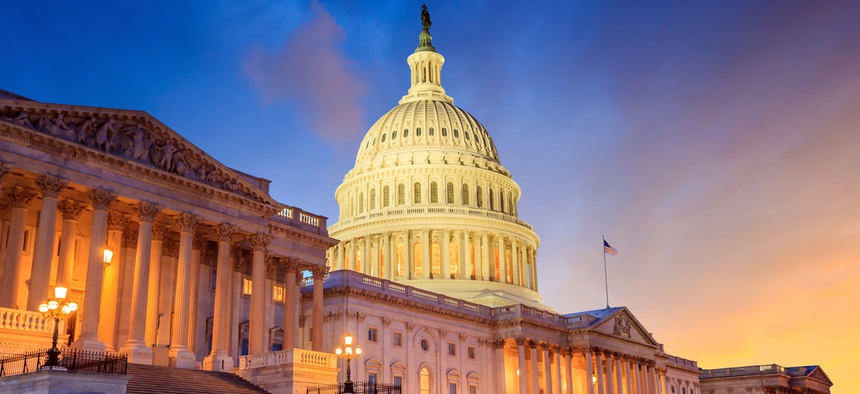 The Hill's big tech and cyber work this week will kick off Monday when the Senate votes on its version of the National Defense Authorization Act.
Reversing the reversal that revived a rival: The bill's most controversial item is likely to be an amendment from Sens. Tom Cotton, R-Ark., and Chris Van Hollen, D-Md., reversing a Trump administration deal that effectively saved the Chinese telecom ZTE from going out of business. U.S. intelligence agencies have said ZTE could be a launching pad for Chinese government spying, but the Commerce Department's initial decision to ban the company from U.S. suppliers was because of sanctions violations and some lawmakers have argued the reversal unfairly steps on executive branch powers.
The amendment also bans ZTE and another Chinese telecom Huawei from all government contracts. That provision is mirrored in the House version of the bill.
What's missing: The Senate bill does not include amendments that would have put the power of legislation behind Homeland Security Department efforts to improve election security and raised security requirements for internet-connected devices purchased by the government.
About Those Votes
Where's the $380 million Congress appropriate for election security in March going? About where you'd expect, a Homeland Security official told lawmakers Tuesday.
In the short term, that means patching outdated software and training election workers to spot phishing emails and making sure there are more cyber pros on the ground on Election Day, said Matthew Masterson, a senior cybersecurity advisor. Longer term, states are working to ensure all voting machines have auditable paper trails, Masterson said.
Speaking of Paper Trails
A sextet of Senate Democrats introduced a bill Tuesday that would require states to use paper ballots for elections and to institute "statistically rigorous 'risk-limiting' audits for all federal elections."
"Leaving the fate of America's democracy up to hackable election machines is like leaving your front door open, unlocked and putting up a sign that says 'out of town,'" said Sen. Ron Wyden, D-Ore., one of the bill's sponsors. "It's not a question of if bad guys get in, it's just a question of when."
Alexa's Listening
Sens. Chris Coons, D-Del., and Jeff Flake, R-Ariz., are worried consumers are getting more than they bargained for with Amazon's digital personal assistant Alexa.
In a letter to Amazon CEO Jeff Bezos, the pair recounted the story of an Oregon couple who accidentally triggered the device and ordered it to send a recording of their conversation to one of the couple's contacts.
The pair wants to know how often Alexa misinterprets command, how much voice data it records and stores and how likely it is to record people without their knowledge.
Mo' Money, Mo' Modernization
Tucked into a 2019 House Appropriations Committee bill for financial services is an additional $150 million for the Technology Modernization Fund managed by the Office of Management and Budget and General Services Administration. The fund received $100 million for its inaugural year, $45 million of which was recently allocated for three agency modernization projects.
As with the initial allocation, if approved, the funds would be available to the board until expended, instead of sunsetting at the end of fiscal 2019.
A New Possible Dashboard
The House on Tuesday approved legislation that would give the Health and Human Services Department six months to build a publicly available dashboard containing all government data related to substance abuse, the opioid epidemic, and addiction prevention and treatment. The Indexing Narcotics, Fentanyl and Opioids Act was among the 25 bills passed this week to strengthen the federal response to the growing opioid epidemic. The House has another 30 addiction-focused bills on the docket for next week.
Coming Up
It's another busy tech and cyber week on the Hill. Here's a cheat sheet:
At 2 p.m. Monday, the Senate Judiciary Committee will convene an oversight hearing focused on the Justice Department's recent inspector general report on investigations into the Trump and Clinton campaigns.
The House Judiciary Committee will hold its version of that hearing along with the House Oversight Committee at 10 a.m. Tuesday.
Also at 10 am. Tuesday, a Senate Appropriations subcommittee will mark up its Homeland Security Department appropriations bill.
At 2:30 p.m. Tuesday, the Senate Commerce Committee will hold a hearing focused on Cambridge Analytica and other Facebook partners.
At 10 a.m. Wednesday, the Senate Intelligence Committee will hold an open hearing on Russian interference in the 2016 election.
At 10:30 a.m. that day, the Senate Rules Committee will discuss election security preparations for the 2018 contest.
At 1 p.m. Wednesday, the House Energy Committee will probe Health and Human Services Department cybersecurity.
Beginning at 9 a.m. Thursday, lawmakers will hold their second annual bipartisan Capitol Hill National Security Forum. Speakers include Homeland Security Sec. Kirstjen Nielsen and former White House Cybersecurity Coordinator Rob Joyce as well as numerous top national security lawmakers.
Aaron Boyd and Jack Corrigan contributed to this article.