Congress Takes Up Another Spending Deal, Spying Presents and AI Bias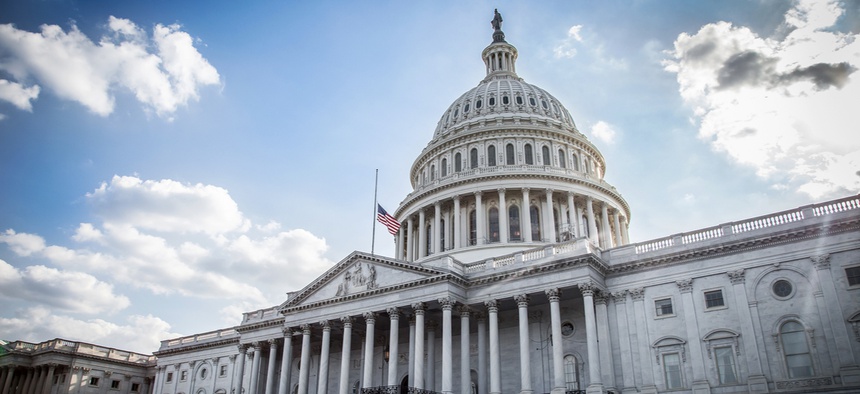 Besides budget deals, lawmakers want to get ahead on internet of things devices and keep tabs on artificial intelligence development.
The last short-term government spending deal expires Dec. 22, and prospects for the next one don't look great.
A continuing resolution proposed by House Appropriations Committee Chairman Rodney Frelinghuysen, R-N.J., would fund the Defense Department through fiscal 2018 above spending caps while the civilian side would get another stop-gap deal through Jan. 19. All but four Senate Democrats signed a letter to Republican majority leaders that opposed raising Defense spending while keeping civilian spending flat, which doesn't bode well for the coming negotiations.
Lawmakers need to address the immediate shutdown threat and work around the Budget Control Act spending caps for fiscal 2018 appropriations. Agencies, meanwhile, have been updating their shutdown plans with which employees and systems must stay on if Congress fails to make a deal.
Give Ukraine a Hand
The House Foreign Affairs Committee forwarded legislation Thursday that urges the State Department to help Ukraine improve its cybersecurity and reduce its reliance on Russian digital infrastructure. The bill also requires a report within six months about State's efforts. Ukraine suffered a major cyberattack against its electric grid in 2015 that was widely linked to Russia.
Merry Christmas; Your Toaster Could Dox You
The Federal Trade Commission would be tasked with creating online resources helping consumers understand how secure or insecure popular internet-connected devices are from hacking under legislation introduced Thursday.
The website would note what security support devices get from their vendors after purchase and how to set up passwords and other security tools, according to the Internet of Things Consumer Tips to Improve Personal Security Act, or "IoT TIPS Act."
The bill, sponsored by Sens. Roger Wicker, R-Miss., and Maggie Hassan, D-N.H., would also detail device end-of-life considerations such as how to delete any personal information the device has collected.
"With the holiday season upon us, many consumers are buying the latest internet-connected devices for their loved ones. As these devices enter the marketplace, it is important that Americans know how to protect themselves from cybercriminals," Wicker said in a statement.
Wyden: Let's Name and Shame States with Unsecure Election Systems
The Homeland Security and Commerce Departments should grade states on their election cybersecurity and publish an annual scorecard listing areas where each state should improve, Sen. Ron Wyden, D-Ore., said in a letter to National Security Adviser H.R. McMaster Tuesday.
McMaster should also designate a top White House official to "own" election cybersecurity and brief Congress on the issue, Wyden said, and should direct Homeland Security to designate political campaigns as critical infrastructure.
About That $400 Million You Owe Us …
The National Association of Secretaries of State called on Congress Thursday to pay out the last share of funding—about $400 million—due to states under the 2002 Help America Vote Act. The funding will help states shore up cyber infrastructure in advance of the 2018 election the officials said.
Call Me by Another Name
A bill that would reorganize and rename the Homeland Security Department's cybersecurity and infrastructure protection division passed the House on a voice vote Monday. The bill, sponsored by Homeland Security Committee Chairman Michael McCaul, R-Texas, faces a long road, however, before becoming law.
Homeland Security officials have praised the renaming effort, saying the division's current name, the National Protection and Programs Directorate, is clunky and confusing. Under the bill, it would be called the Cybersecurity and Infrastructure Protection Agency.
An Eye on AI
Sen. Maria Cantwell, D-Wash., and a bipartisan group this week introduced the Fundamentally Understanding the Usability and Realistic Evolution of Artificial Intelligence Act, or FUTURE of AI, for short. The bill would create a Commerce Department-run federal advisory committee to look at how AI could workforce, innovation and privacy issues. It also would direct a look how to prevent bias in automated systems.  
Time to Upgrade
President Donald Trump on Tuesday signed the National Defense Authorization Act—and along with it the Modernizing Government Technology Act—into law. The defense bill includes sweeping changes to defense IT, including changes to security clearances and the defense CIO role. The MGT Act includes central funds to help agencies upgrade outdated IT and Congress is already preparing to watch those dollars carefully. The House Oversight and Governmental Affairs Committee asked the Government Accountability Office to identify the most mission-critical IT system acquisitions and for ways to improve the government IT workforce.  
Speaking of Modernization …
Margaret Weichert, the nominee for the Office of Management and Budget's deputy director for management, listed IT modernization as one of her priorities. The others include data, accountability and transparency, and a need to speed up federal hiring and onboarding. Weichert's government experience is limited to her service as an OMB senior adviser earlier this year.
The Net Neutrality Fight Might Not Be Over
Sen. Ed Markey, D-Mass., is leading a congressional effort to put net neutrality back on the books after the Federal Communications Commission repealed the regulations on Thursday. Markey and 15 senators announced their plan to introduce Congressional Review Act that would reinstate rules to prohibit internet service providers from setting up internet fast and slow lanes and ensure they could not block or slow down internet traffic. State attorneys general from New York, Washington, Oregon, Illinois, Iowa and Massachusetts (so far) are joining together to sue the FCC over the repeal, Ars Technica reported.
Anti-Sex Trafficking Bills Take New Twist
A House panel on Tuesday approved a controversial bill aimed at curbing online sex-trafficking by making websites liable for trafficking-related posts from users. The amended Allow States and Victims to Fight Online Sex Trafficking Act makes online prostitution a federal crime and allows victims sue sites that intentionally facilitate or promote such activity. The bill and its Senate counterpart have been at the center of a months-long debate on how to curb online trafficking while protecting tech companies from frivolous lawsuits.
Jack Corrigan contributed to the article.