Hurricane Harvey Leaves 190,000 Without Phone, Internet or TV Service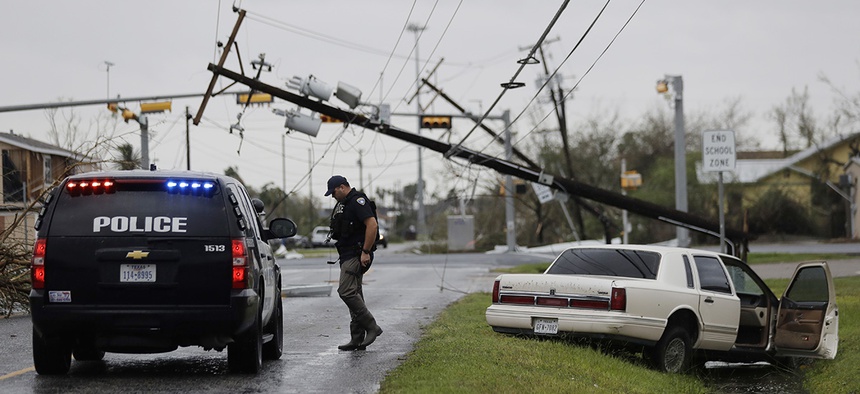 The Federal Communications Commission activated emergency measures Friday to help coordinate efforts to get hundreds of communications systems back online in the areas devastated by Hurricane Harvey.
The storm left almost 190,000 TV, internet and phone customers in Texas and Louisiana without service as of 11 a.m. on Monday, up more than 40,000 from the previous day, according to the FCC. Heavy winds, rain and flooding also knocked out radio stations, 911 call centers and hundreds of cell towers along the Texas coast.
The FCC asked communications providers in 55 counties affected by the storm to file updates to the agency's Disaster Information Reporting System to help monitor the status of communications networks in the region. The agency also kept its operations center open around the clock to field calls from communications providers on the ground.
» Get the best federal technology news and ideas delivered right to your inbox. Sign up here.
According to Monday's report, 364 of the 7,803 cell towers in the affected region remain out of service. The Texas counties where Harvey made landfall were hit with the most damage: 94.7 percent of cell towers in Aransas County are out of operation, along with 84.6 percent in Refugio County and 74.1 percent in Calhoun County.
Federal employees also are keeping a close eye on communications networks in Harris County, where extensive flooding may do further damage in the coming days, FCC Chairman Ajit Pai said Monday. Harris County is home to Houston, where residents were told to evacuate Monday morning, days after torrential rains dumped more than two feet of water on the city. Rainfall is expected to total 50 inches in some areas by the end of the week, according to the National Weather Service.
The FCC also reported nine radio stations and 16 911 call centers in Texas are currently out of operation. The agency issued special guidelines that make it easier for broadcast stations and other providers to get back online and provide emergency communications.
Harvey made landfall Friday night in Rockport, Texas as a Category 4 hurricane and was downgraded to a tropical storm on Saturday morning. The storm has already claimed the lives of eight people.