FCC CIO Won't Head to NGA After All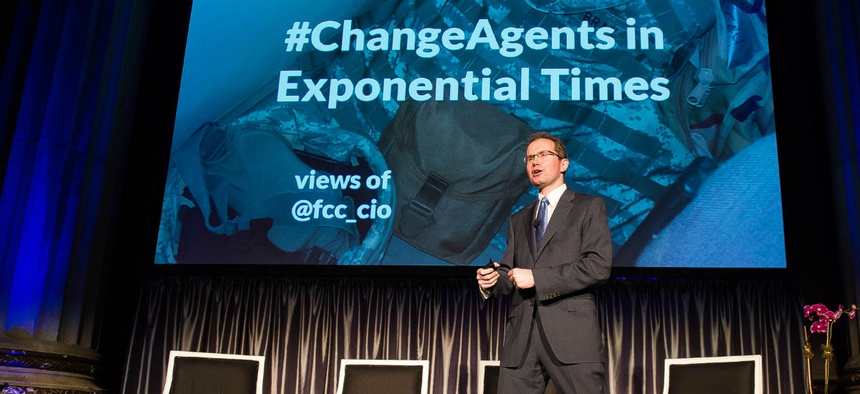 The National Geospatial-Intelligence Agency may have to find a new chief ventures officer.
In June, Federal Communications Commission Chief Information Officer David Bray announced he would fill NGA's role but changed his mind in recent weeks, according to an email Bray sent to FCC staff Thursday, obtained by Nextgov.  
"I've communicated to the NGA director earlier this week that I will be pursuing a different future career. A big thank you for everything that each of you do to help move FCC forward," Bray said in his email.
» Get the best federal technology news and ideas delivered right to your inbox. Sign up here.
Instead, Bray will pursue private consulting roles in machine learning and data integration strategies, and will become the executive director of the People-Centered Internet, a coalition founded by tech icon Vint Cert.
Bray initially accepted the position with NGA in early June, but later deferred his start date to late September after the "sudden arrival" of his adopted son. He has been on family leave since.
In a statement, Bray told Nextgov he received news of a potential adoption in June while attending a data conference in Dublin, also attended by Cerf.
"Since then, my family life has changed in several good ways," Bray told Nextgov. "While I had previously planned to start a different government role this summer, the opportunity to join the People-Centered Internet coalition as executive director represents a once-in-a-lifetime opportunity to work with the tremendous PCI Board and team to advocate, share expertise, and identify projects to demonstrate how the internet can be more people-centered."
Bray became the FCC's top tech official in 2013 during a tumultuous time for the independent agency, becoming its ninth CIO in eight years. Over the years, the agency shifted its IT to the cloud and reduced its legacy tech spending more than 35 percent.
Bray's departure comes as lawmakers want answers about why FCC's commenting site stopped accepting net neutrality comments from the public in May. At the time, Bray announced the site was subject to a distributed denial-of-service attack, but the agency has yet to provide evidence. Sen. Brian Schatz, D-Hawaii, and Rep. Frank Pallone, D-N.J. Thursday requested the Government Accountability Office investigate the matter.
NGA did not comment on Bray's move.