Air Traffic Control Can Text Flight Crews. FAA Says It's Safer Than Radio, But Is It Secure?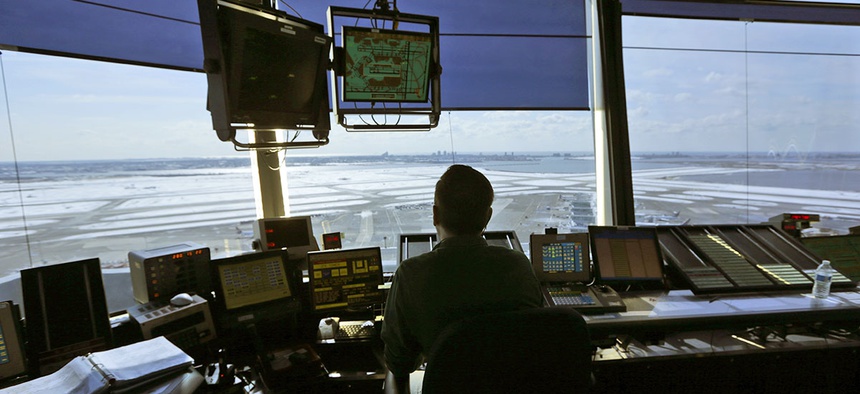 A watchdog wants to ensure outsiders can't interfere with flight safety communications.
A federally-funded communication system that lets air traffic control text flight crews is being audited to ensure it's really secure from outside threats.
The Federal Aviation Administration's Data Communications program, known as Data Comm, allows ground and flight crews to exchange text-based clearance instructions, instead of relying on voice communications over radio. Generally, the system relies on equipment already available in most aircraft; in the future, FAA aims to expand the system to accommodate other requests and reports beyond landing and takeoff.
Text-based communication removes some of the ambiguity and potential for misunderstanding in voice communication, like when numbers sound similar, according to FAA. But the Transportation Department's Inspector General's Office is initiating an audit into its information controls "to prevent potential security threats from compromising flight data and communications," via Data Comm, according to a recent memorandum.
The audit aims to identify and mitigate security risks in Data Comm, and to also assess whether FAA's contingency plans adequately prepares the agency for emergencies; for instance, FAA needs to create a contingency plan so it can recover rapidly from Data Comm outages, the memorandum said. The IG's investigation will be conducted both at FAA headquarters and at field sites.
It's not the first time the IG has tried to audit the system. In 2014, it terminated an attempt to evaluate the system's security because "the system is still in development and has not yet become operational."
Currently, Data Comm lets air traffic controllers send messages straight to the flight deck; the crew can respond by sending a read-receipt, and then automatically input the message into a flight management system before departure and during the taxi process.
Reducing any ambiguity about instructions could also increase fuel savings, according to the agency—clearance using voice occasionally takes up to three times longer than when using Data Comm, and often air traffic control has to send navigation instructions multiple times before the aircraft takes off.
FAA plans for the system to eventually let controllers communicate with many flight crews at once, potentially redirecting them around storms or hazards, and also instantly alerting flight dispatchers of any updates, according to the agency. It plans to implement the next phase of Data Comm, which allows for en route communication, in 2019.