Lawmakers Get Ready For Russia, the Supreme Court Nominee and That Health Care Vote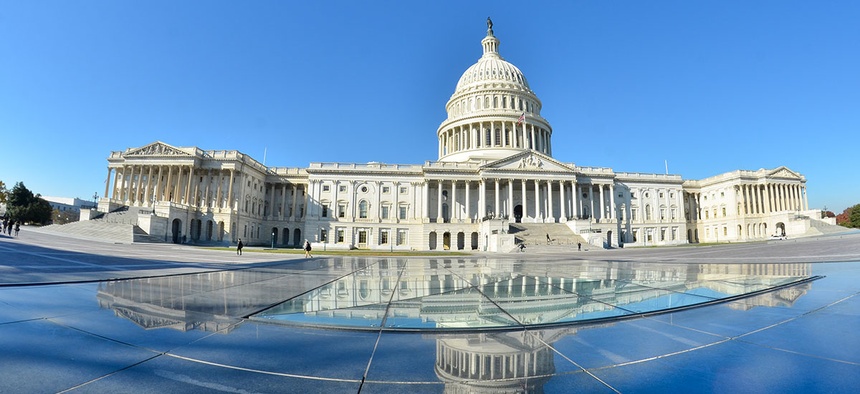 The first public hearing for a congressional investigation into Russian involvement in the presidential election takes place this week.
Russia, Supreme Court nominee Neil Gorsuch and the Republican health care plan will dominate the Hill this week.
On Monday, Congress will kick off the public part of its investigation into Russian cyber meddling in the 2016 election with a House Intelligence Committee hearing, where FBI Director James Comey and National Security Agency Director Adm. Michael Rogers will testify. Other intelligence officials are expected to testify at a hearing the following week.
The hearing will come just five days after the Republican and Democratic leaders of the House committee said there's no evidence to back up President Donald Trump's claim that the Obama administration wiretapped his campaign. Senate Intelligence Committee leaders backed up that assessment the next day and Comey is sure to face questions about it.
Workforce Watch
Last week featured largely grim news for the federal workforce. The president issued an executive order to reorganize and cut waste from federal agencies—and a possible workforce reduction. Then, the administration unveiled its budget blueprint, proposing to cut 19 agencies, shift innovation and research to the private sector and boost cybersecurity programs. The House on Thursday also approved controversial bills to make it easier hire and fire Veterans Affairs employees.
» Get the best federal technology news and ideas delivered right to your inbox. Sign up here.
But Congress also moved along some efforts to help out the government workforce. The House on Friday passed bills that would improve recruiting for VA medical facilities. The House Oversight and Government Reform Committee moved along a bipartisan—and Postal union supported—effort for U.S. Postal Service reform. The Senate Homeland Security and Governmental Affairs Committee moved along nine bills, including the Dr. Chris Kirkpatrick Whistleblower Protection Act to protect federal whistleblowers from retaliation and the Follow the Rules Act to protect federal employees ordered to break the law.
Wyden Worried About Phone Tracking
Two cyber- and privacy-savvy lawmakers want to know what the Homeland Security Department is doing to protect Americans from vulnerabilities in a system phone networks use to share information and that, if hacked, could expose call and text message information and be used to track phone owners' movements.
Sen. Ron Wyden, D-Ore., and Rep. Ted Lieu, D-Calif., wrote to DHS Secretary John Kelly on Wednesday asking what the government is doing to guard against Signaling System No 7, or SS7, vulnerabilities, whether wireless carriers are providing necessary assistance and what DHS is doing to inform the public about the threat.
When the Robots Take Your Job
House Energy and Commerce Democrats introduced March 16 a set of bills focused on giving Americans access to technology to help find jobs. The 21st Century Worker Opportunity Act and Innovation Corps Act of 2017 focus on providing job retraining resources for workers replaced by automation, providing credits, grants and loan forgiveness. The others—the Wi-Fi Capable Mobile Devices Act, the Rural Wireless Act and Tribal Digital Access Act—aim to ensure internet and broadband access to low-income students, areas with gaps in mobile coverage and "Indian Country."
Cantwell Seeks Cyber Workforce Boost for Energy Department
The ranking Democrat on the Senate Energy and Natural Resources Committee on Tuesday sent Trump a letter urging action to protect the nation's power grids from cyberattacks originating in Russia and other national adversaries. Sen. Maria Cantwell, D-Wash., is drafting legislation to upgrade the Energy Department's cyber workforce, according to a statement.
And There are So Many More Hearings...
In the wake of the Marines United scandal—when it was discovered Marines were posting nude photos of their female colleagues—the House Armed Services Committee on Tuesday will examine social media policies of all the military services. Military.com reports Commandant Gen. Robert Neller ordered all Marines be educated on acceptable online behavior and an update to its 2010 social media guidance.
Tuesday, the House Energy and Commerce Committee focuses on broadband deployment and will discuss a draft of Broadband Conduit Deployment Act of 2017, or the "dig once" legislation sponsored by Rep. Anna Eshoo, D-Calif., that would require any federally funded roads to include broadband conduits to house fiber.
Former high-ranking cyber officials will testify Wednesday about DHS' role in protecting civilian networks from cyber threats. Former National Security Agency Director Gen. Keith Alexander and former White House Cybersecurity Coordinator Michael Daniel are scheduled to appear. The Senate Commerce, Science and Technology Committee also digs into cybersecurity, exploring how emerging technology like blockchain and artificial intelligence could be used to shore up defenses.
The House oversight committee on Wednesday will dive into law enforcement's use of facial recognition technology and rescheduled a look at recent legislative transparency efforts for Thursday.
Heather Kuldell and Joseph Marks contributed to this report.