Congress' Favorite Word This Week: Transparency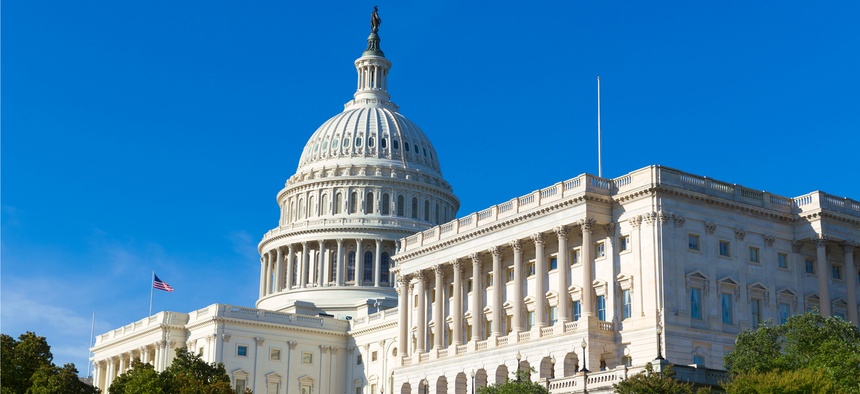 This week, lawmakers tackled legislation that included the words "open" and "online" as if they were playing some kind of transparency bingo game.
Even though this week saw Congress roll back internet privacy rules, lawmakers more often tackled legislation that included the words "open" and "online" as if they were playing some kind of transparency bingo game.
Open Gov 2.0
Sens. Ben Sasse, R-Neb., and Brian Schatz, D-Hawaii, along with Reps. Blake Farenthold, R-Texas, and Derek Kilmer, D-Wash., reintroduced the Open, Public, Electronic and Necessary Government Data Act in the Senate and House this week.
Similar to the 2014 Digital Accountability and Transparency Act, which directs federal agencies to publish their spending data online by May 2017, this bill would establish that information "controlled, collected or created by" the federal government should be published in an open, accessible formats and stored on Data.gov. Agencies would be required to keep inventories of the data sets they house and chief information officers would oversee the process.
"Taxpayers already pay for this data, so they should be able to access it easily," Farenthold said in a statement.
More public data could create new business opportunities for tech companies, especially if they can "republish, analyze and automate open data to create new business value," Hudson Hollister, executive director of the transparency advocacy group the Data Coalition, said in a statement.
Making Accessibility More Accessible
Blind people use technology, too, but require additional equipment to make it work for them like text-to-speech software and electronic Braille displays. Lawmakers are trying to get tax credits for the qualified technology—hardware or software—with Access Technology Affordability Act, introduced to both houses by Sens. Ben Cardin, D-Md., and John Boozman, R-Ark., and Reps. David Young, R-Iowa, and Lucille Roybal-Allard, D-Calif.
Putting the Ease in Legalese
Reps. Dave Brat, R-Va., and Seth Moulton, D-Mass., reintroduced an effort to make all legal statutes available online in searchable and digital formats. The Statutes at Large Modernization Act would require Government Printing Office to lead the digitalization of the U.S. Statutes at Large, a collection all the laws and resolutions enacted during congressional sessions and is collected by the National Archives and Records Administration
Keeping Up with the Vulns
House Energy and Commerce leaders Thursday sent letters to the Homeland Security Department and MITRE Corp. asking if the program security professionals use to monitor known computer vulnerabilities is keeping up with the pace of disclosures. The letter was sparked by reports that requests to the Common Vulnerabilities and Exposures program were taking weeks or longer to process.
Helping Main Street
The Senate Commerce Committee will mark up legislation Wednesday that would bolster the National Institute of Standards and Technology's efforts to shore up the cybersecurity of small businesses. The bipartisan and cleverly acronym-ed bill is the Making Available Information Now to Strengthen Trust and Resilience and Enhance Enterprise Technology Cybersecurity, or … Main Street! Act.
Russians Target Rubio
Staffers for the presidential campaign of former GOP hopeful Sen. Marco Rubio, R-Fla., were targeted by Russian hackers, the senator revealed during a Senate Intelligence hearing Thursday. The attacks came shortly after Rubio announced his Senate reelection bid and after he was out of the presidential race. Those staffers were targeted again last week, he said. The revelation came after a committee witness revealed Rubio's campaign had been targeted negatively by Twitter bots associated with Russian intelligence agencies.
Transparency or Barrier?
The House this week passed two bills changing the way the Environmental Protection Agency carries out its science. On Wednesday, the House passed Honest and Open New EPA Science Treatment Act, which blocks the agency from writing regulations without making all the data publicly available. Rep. Lamar Smith,  R-Texas, argued the bill promotes transparent science at an agency gone crazy writing regulations based on "secret science," while critics say the agency can't release all the research it uses because it doesn't own all of it.
The House also advanced the EPA Science Advisory Board Reform Act, which would block any scientist with research grants—or would apply for them within three years of quitting— from participating on the board. Bill opponents say this discourages scientists from universities and encourages industry participation.
Heather Kuldell, Joseph Marks and Mohana Ravindranath contributed to this article.