Pentagon Wants Power Scavenger to Recharge Troops' Batteries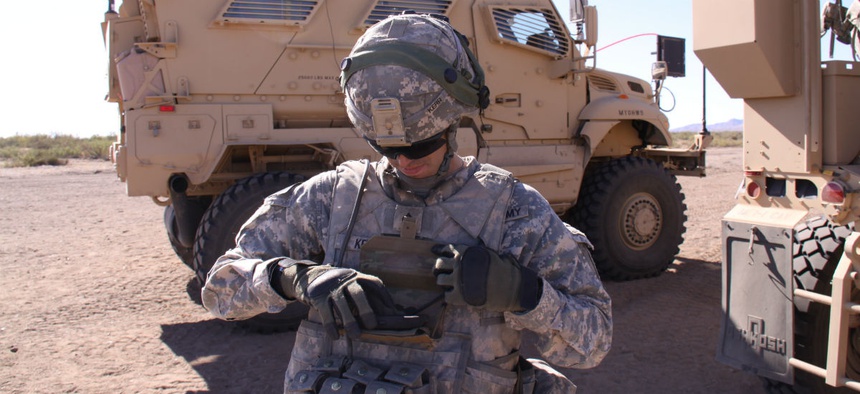 The Defense Department is looking for new ways war fighters can recharge their wearable situational awareness devices.
DOD is soliciting a 5-year indefinite delivery, indefinite quantity contract for "Power Scavengers," a technology that would let troops gather power from outside sources and recharge the battery for the existing console for situational awareness.
The Nett Warrior is an Army system used by forward-deployed units during combat operations. Troops access various situational awareness and mission command capabilties—like the locations of fellow soldiers—through a chest-mounted smartphone.
» Get the best federal technology news and ideas delivered right to your inbox. Sign up here.
If soldiers could scavenge power, potentially from sources like heat, vibrations or solar power, they wouldn't have to carry several batteries, and operational mission time could be extended, according to the solicitation.
Because the Nett Warrior system is worn or carried by the soldier, "size, weight, power consumed for operation and reliability are paramount," the solicitation said. The scavenging system shouldn't exceed 6 cubic inches in surface area or weigh more than 8 ounces.
It also shouldn't cause discomfort as a result of "pressure points, gauging, pinching, chaffing, hot spots, or excessive heat build-up during typical combat operations. "
The system should also function in high and low temperatures, as well as hot, humid, snowy, and foggy environments, both day and night.
A supplier would provide the Nett Warrior Power Scavenger as well as technical support for a fixed price.