Oversight 'Urgently Needed' as Agencies Implement IT Reform Law, Watchdog Says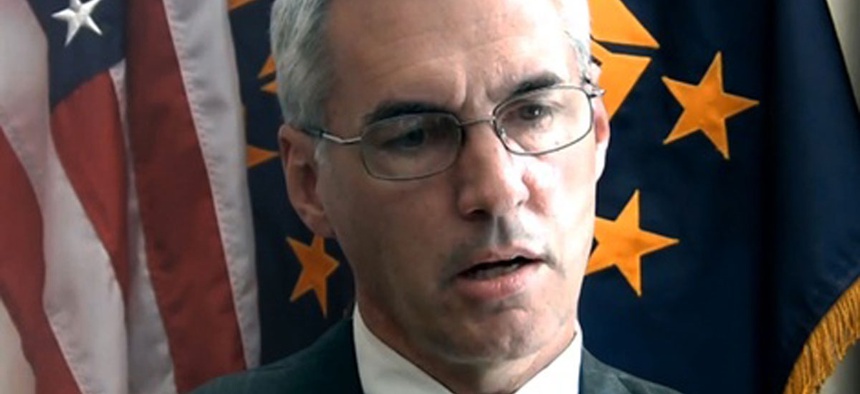 The former DHS CIO will tell Congress some agencies will likely struggle to fully implement the Federal IT Acquisition Reform Act, known as FITARA.
A government watchdog is set today to testify before a key House committee that continued congressional oversight is "urgently needed" to reduce waste in federal IT spending.
A new law boosting the authority of agency chief information officers to control IT spending is a major step in the right direction, according to Dave Powner, director of IT management issues at the Government Accountability Office. However, a new GAO report accompanying Powner's prepared testimony details areas where other recent Obama administration tech reforms have fallen short.
Another expert, the former chief information officer of the Department of Homeland Security, will testify that some agencies will likely struggle to fully implement the Federal IT Acquisition Reform Act, known as FITARA.
The House Oversight and Government Reform Committee is examining how agencies are implementing the new law, which Congress passed in December. Tony Scott, the federal CIO, and Anne Runge, the administrator of the Office of Federal Procurement Policy, are also set to testify.
"With the recent passage of IT reform legislation, the federal government has an opportunity to improve the transparency and management of IT acquisition and operations, and strengthen the authority of CIOs to provide needed direction and oversight," Powner will testify, according to prepared testimony made available by the committee ahead of the hearing.
The Office of Management and Budget issued rules of the road for implementing the new law in late April. That implementation guidance focused on creating what it called a "common baseline" of roles and responsibilities for agency CIOs across government. FITARA broadly aims to give CIOs more authority over IT budgets and spending at their agencies. For example, agencies are barred from entering into new IT contracts that haven't been signed off on by the agency CIO. The Defense Department is exempt from the new requirements.
But experts say to expect some bumps.
"Past history leads me to still have concerns regarding the approach agencies will take in developing their implementation plans for meeting the requirements of FITARA," Spires, the former DHS CIO, will testify before the committee, according to his prepared testimony.
Spires pointed to the 1996 Clinger-Cohen Act, which first required federal agencies to create the CIO role. However, the law was unevenly implemented, meaning some CIOs were sometimes cut out of the agency's decision-making process.  
Even to this day, few agency CIOs "can claim they have the authorities outlined in Clinger-Cohen, and it is has been viewed as failed legislation across the federal IT community," Spires said in prepared testimony.
Implementing new CIO authorities shouldn't only be about boosting the CIO role, according to Spires.
"There is some concern that CIOs will use their new authorities to become authoritarian," according to Spires' prepared testimony. "That will not work. The key is having the agency CIO have vision and provide leadership in all IT matters, but also work to build consensus throughout the agency leadership team."
Other Reforms Have Fallen by the Wayside
GAO, for the first time this year, added IT acquisition to its high-profile list of "high-risk" federal programs, citing projects that "too frequently fail or incur cost overruns and schedule slippages while contributing little to mission-related outcomes." Agencies have also been slow to address the watchdog's recommendations.
Over the past five years, auditors have made a total of 747 recommendations related to IT acquisition; only about 23 percent of them have been "fully implemented" by agencies, according to GAO.
For example, face-to-face meetings between OMB and agency officials to help turn around running-off-the-rails IT projects or terminate them appear to have fallen completely off the radar. OMB launched the TechStat sessions in 2010 and said the initiative had saved $3 billion in its first year.
But GAO says OMB has not conducted any TechStat reviews since March 2013 and hasn't listed any savings from TechStat sessions in required quarterly reporting to Congress since June 2012.
GAO also renewed its criticism of the IT Dashboard, a public website designed to provide a snapshot of the performance of federal IT projects as rated by agency CIOs.
GAO said some agencies have removed major investments from the website, "representing a troubling trend toward decreased transparency," according to Powner's prepared testimony.
In another mark against transparency, the dashboard is not updated for large stretches of time.
According to OMB policy, the public version of the dashboard is not updated during the months-long process of formulating the president's annual budget request. Most recently, OMB stopped updating the public version of the dashboard in August 2014 and did not post fresh content again until March 10.