Key Senators Back a Stronger, More Digital FOIA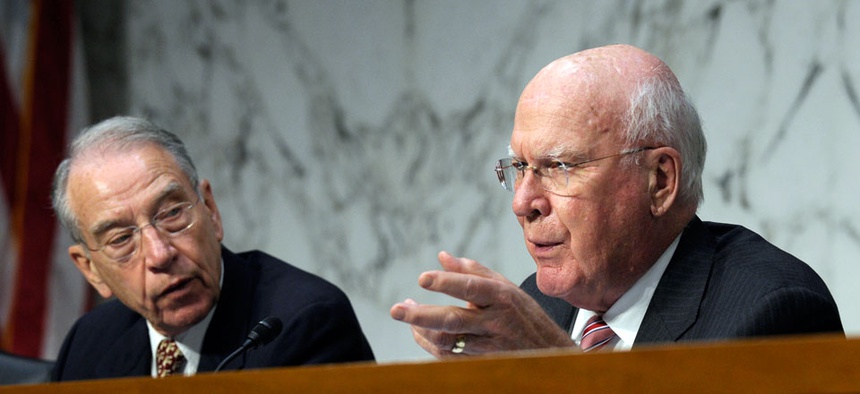 The ranking member of the Senate Judiciary Committee expressed interest on Tuesday in a House-passed bill to strengthen the Freedom of Information Act, including by mandating a single online portal for all government FOIA requests.
Judiciary committee staff members are reviewing the bill that the House passed unanimously in February, said Sen. Chuck Grassley, R-Iowa.
Grassley and Judiciary Chairman Patrick Leahy, D-Vt., both expressed optimism the committee would take up transparency legislation during a hearing focused on "Reinvigorating FOIA for the Digital Age."
The FOIA Oversight and Implementation Act would also require that the Office of Government Information Services, which was established in 2007 as something of a FOIA ombudsman, report directly to Congress rather than passing its reports and recommendations through the White House's Office of Management and Budget first.
OGIS' first slate of recommendations to improve governmentwide FOIA performance were stalled at OMB for more than a year before being released in April 2012 amid pressure from Leahy and Grassley.
Leahy asked OGIS Director Miriam Nisbet to weigh in on the House legislation, which was sponsored by House Oversight and Government Reform Committee Chairman Darrell Issa, R-Calif., and ranking member Elijah Cummings, D-Md. She declined to comment because the Obama administration hasn't stated an official position on the bill.
Nisbet praised FOIA Online, a pilot tool to receive and manage FOIA requests across a handful of agencies, including OGIS's parent agency the National Archives and Records Administration.
"Whether in a small agency or a large one, the system seems to be working quite well," she said. "We've got good feedback from requesters and we think this is a good model for looking at expanding it, which we hope happens, or to [inform the] next version that comes along."
Grassley asked Nisbet whether the Treasury Department, which used FOIA Online for about one year before withdrawing, had exited because of problems with the system. Nisbet said Treasury was already developing an internal FOIA Web tool when it joined FOIA Online and had used the joint system on a temporary basis while that system was being built.
Much of the remainder of Tuesday's hearing focused on agency's FOIA performance, with several senators citing a Center for Effective Government scorecard that gave failing grades to seven of 15 agencies that handle roughly 95 percent of all FOIA requests.
Among other factors for the low scores, the center cited a rising number of exemptions agencies cited for returning redacted or incomplete documents.
Melanie Pustay, director of the Justice Department's Office of Information Policy, said the rising exemption figure could be misleading because agencies were processing a larger volume of requests and more complex requests. That analysis was disputed by several FOIA advocates who argued exemptions are interpreted too broadly and pressed for a broader role for OGIS.
Pustay cited better technological processing as the best way to decrease FOIA backlogs and to reduce wait times for requesters.
"I am very hopeful that the more advanced, sophisticated technology tools that can actually help agencies search for records and duplicate records and sort records, all the things that many times are done manually, they can be automated to increase timeliness," she said. "That, in turn, will allow agencies to get back to requesters in a faster way."
This story has been updated to clarify the state of potential FOIA legislation in the Senate Judiciary Committee.