Senator 'Won't Back Down' Despite White House Efforts to Weaken Federal Spending Transparency Bill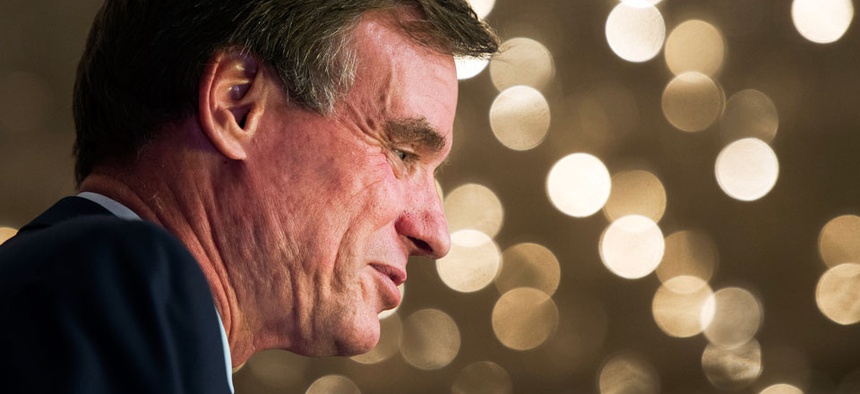 The author of a Senate proposal to standardize the way the government records its spending data lashed out on Thursday at a White House proposal to pare back the reform.
Sen. Mark Warner, D-Va., said he would "not back down" in his effort to pass a stronger version of the Digital Accountability and Transparency Act than what was suggested by the White House. A companion bill sponsored by Reps. Darrell Issa, R-Calif., and Elijah Cummings, D-Md, has already passed the House.
The White House proposal would replace the DATA Act's requirement for common spending codes across agencies with a requirement that agencies publish spending information using open data practices. That would accomplish one of the law's goals of making spending data more transparent but it would fall short of another goal: making it easier for people inside and outside of government to compare spending across agencies.
Most agencies use legacy software to code their spending on programs, grants and contracts, which would make switching to a standardized coding system costly.
"The Obama administration talks a lot about transparency, but these comments reflect a clear attempt to gut the DATA Act," Warner said in a statement. "DATA reflects years of bipartisan, bicameral work, and to propose substantial, unproductive changes this late in the game is unacceptable."
Warner added: "We look forward to passing the DATA Act, which had near universal support in its House passage and passed unanimously out of its Senate committee."
Warner cosponsored the Senate version of the DATA Act with Sen. Rob Portman, R-Ohio.
The White House version of the bill would also require agencies to report spending information quarterly rather than monthly and would put the White House's Office of Management and Budget in charge of implementing the new law rather than the Treasury Department.
Transparency groups such as the Data Transparency Coalition and the Sunlight Foundation have also issued statements opposing the White House edits to the bill.