Veterans Affairs CIO Roger Baker Plans to Resign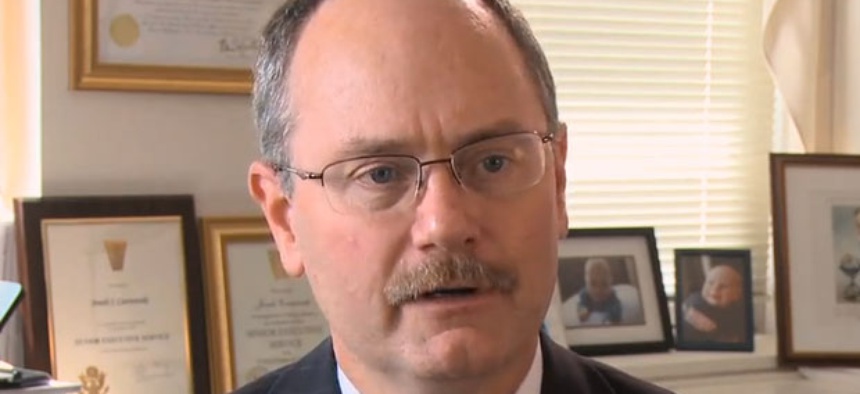 This story has been updated.
Veterans Affairs Chief Information Officer Roger Baker said he plans to resign in an internal memo provided to Nextgov.
In a memo sent to the VA information technology staff, Baker said, "My friends and colleagues in VA IT, this email is to announce that I am planning to resign from my position as the Assistant Secretary for Information and Technology in the near future. At this point, I have not established when my final day will be."
Baker said, "Over the last four years, VA IT has come to be recognized as a leader in federal IT. We have improved our relationships with our IT customers; established one of the highest performing product delivery organizations in the world; achieved visibility to our networks and medical devices; focused our decision-making based on metrics and not by anecdotes; and become an IT organization that is seen as an investment for the VA rather than an expense."
He added, "Most critically, VA IT has become the backbone for the transformation of the VA into a 21st Century organization that the Secretary has envisioned. Your ability to deliver the technology necessary to support that transformation and to reliably meet our commitments to our customers is fundamental to that transformation."
Since he was confirmed by the Senate in May 2009, Baker brought new rigor to the department's information technology processes, including the use of the Program Management Accountability System, which requires program managers to adhere to a strict development plan aimed at reducing failed technology projects or risk losing their oversight responsibilities.
He also instituted strong controls over the use of data and computers to prevent data breaches. When breaches did occur, he reported them through regular press calls, establishing a new level of transparency.
Baker embraced mobile computing early, fielding Apple smartphones and mobile device management software well ahead of other federal agencies. He predicted in June 2012 that within five or six years, VA would no longer furnish employees with computers. Instead, they likely would use their own devices to connect to department networks. He also said the VA had probably executed its last large scale desktop PC contract, a $476 million deal with Dell in 2011.
A staunch advocate of open software, Baker backed a plan to use it in in the now aborted development of an integrated electronic health record with the Defense Department.
When VA faced problems resulting from the use of medical equipment without sterilization, Baker backed development of a $500 million Wi-Fi based Real Time Location System to ensure instruments were sterilized before use and to track practically every piece of equipment -- including computers -- used in VA hospitals.
VA Secretary Eric Shinseki repeatedly said he relied on IT to develop a 21st Century organization to deliver benefits to veterans quickly and accurately; two key projects started by Baker to meet this mandate have experienced problems and delays.
The Post 9/11 GI Bill processing system failed so miserably in its first year of operation in 2009 that Shinseki had to authorize emergency payments of $3,000 that September. Yesterday, Baker told a House Veterans Affairs Committee panel heating that despite an investment of $263 million in an automated system, VA still had to process complex claims manually.
The $491 million Veterans Benefits Management System intended to eliminate a disability claims backlog, which stood at 899,242 Feb. 11, slowed to a crawl last December when claims examiners tried to perform simple transactions with, such as search, update, save or retrieve, according to internal emails provided to Nextgov.
Baker outsourced work on both the Post-9/11 GI Bill System and VBMS to the Space and Naval Warfare Systems Center Atlantic in Charleston, S.C. One industry source faulted Baker for placing too much faith in that organization.
Tom Munnecke, one of the early developers of the Veterans Health Information Systems and Technology Architecture electronic health record system, said, "Baker has made a tremendous contribution to VA, particularly his focus on open source technology. While he has made tremendous strides within the department, I think that the VA's commitment to openness will continue to require a successor who is a strong advocate of openness."
Trey Hodgkin's, senior vice president of global public sector operations at the trade group TechAmerica, said VA will have a difficult time finding a replacement of Baker's caliber who can step in quickly and manage myriad projects.
Rep. Jeff Miller, R-Fla., chairman of the House Veterans Affairs Committee, said "We wish Roger Baker all the best in his future endeavors. He inherited a tough situation and made real progress. Roger ushered in improvements to VA's IT systems and infrastructure that enabled the department to better track and monitor hundreds of agency programs, and his pro-active approach to keeping Congress informed made it easier for those of us at the House Committee on Veterans' Affairs to do our jobs. In the wake of Roger's impending departure, we call on the president to nominate and the Senate to confirm a replacement who can help VA overcome its many pressing technological challenges while simultaneously reforming the complacent culture among some VA IT personnel that often inhibits progress."