Yes, the Air Force has a Navy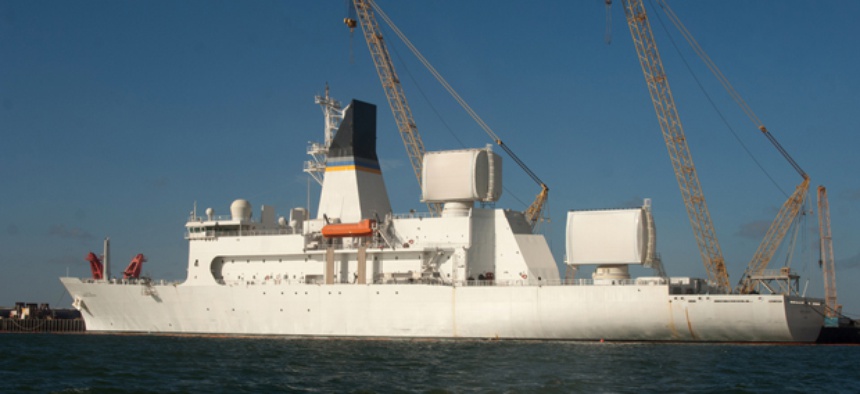 The Naval Sea Systems Command has kicked off sea tests of the Air Force's newest ship, the USNS Howard O. Lorenzen.
The $1.7 billion, 534-foot-long vessel is equipped with a massive radar system, known as the Cobra Judy Replacement, to track foreign ballistic missiles to ensure compliance with strategic arms treaties. It will take over missions performed by similar missile tracking systems housed on the aging USNS Observation Island, which was launched in 1953 and converted to its missile tracking role in 1977 after a stint in the late 1960s conducting test launches of Navy ballistic missiles.
At-sea tests began last week off the Florida Coast. They will run through September 2013, when the ship will be turned over to the Air Force for operations and maintenance, said Chris Johnson, a NAVSEA spokesman. The Military Sealift Command will operate the Lorenzen with a crew of civilian mariners, he said.
NAVSEA is conducting the sea tests out of Port Canaveral, Fla., near the U.S. Air Force Technical Applications Center at Patrick Air Force Base, which will manage the ship once the tests are completed.
Raytheon Co. developed the Cobra Judy Replacement radar system, which includes X- and S-band phased-array sensors, a common radar suite controller and other related mission equipment. It finished installing the radars on the ship in October 2011.
A December 2011 Defense Department acquisition report on the Lorenzen said the S-band radar is used as the primary search and acquisition sensor and is capable of tracking and collecting data on a large number of objects in a multitarget complex. The X-band then takes over and provides very high-resolution data on particular objects of interest, the report said.
Johnson said details on the capabilities of the Cobra Judy Replacement radar system are classified. In 2008, Lt. Gen. Henry "Trey" Obering, director of the Missile Defense Agency at the time, said similar sea-based X-band radar that Raytheon developed could track an object the size of a baseball over San Francisco from a location in the Chesapeake Bay.
The Lorenzen has a crew of 88 and a range of 12,000 nautical miles at a speed of 20 knots. When it finishes its sea trials, it will join the 224-foot-long USNS Invincible in the Air Force's missile tracking fleet and the Observation Island will be retired.
The latest ship is named after a Naval Research Lab scientist who is considered to be the "Father of Electronic Warfare." In World War II, Lorenzen designed systems to defeat German flying bombs, and in the Cold War, he developed satellites to intercept signals from radar in the former Soviet Union.