Congress' Plan to Cut Improper Payments Will Require Investment, Lawmaker Says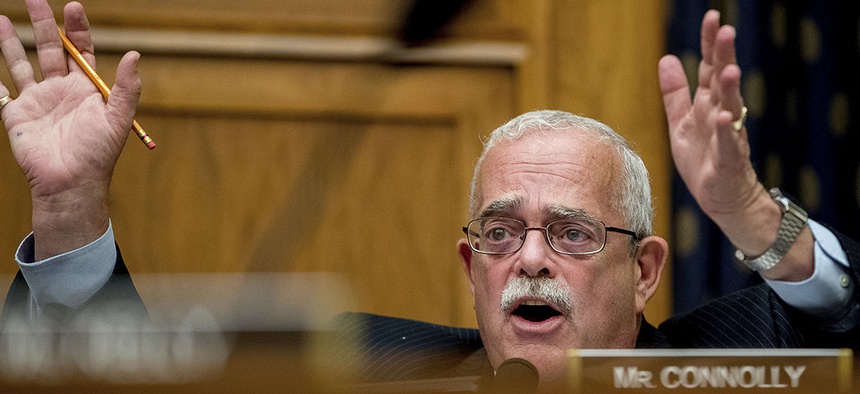 House Republicans aim to save taxpayers a cumulative $700 billion over the next five years by reducing the amount federal agencies waste on improper payments, but agencies will have to invest in the resources and people, one lawmaker said.
Congress' attempt to tackle improper payments is more aggressive than President Donald Trump's proposed $139 billion in cuts over the next decade. And while $700 billion in cuts is "not an impossible goal," according to Rep. Gerry Connolly, D-Va., both Congress and the Trump administration will need to tweak their approach to maximize savings.
"The budget contradicts that goal," Connolly said, talking to reporters after speaking at the Fraud and Abuse Forum Thursday in Washington. "We need to invest in the enterprise, not disinvest."
» Get the best federal technology news and ideas delivered right to your inbox. Sign up here.
The House Republicans' budget blueprint aims to halve spending on improper payments for entitlements such as Medicare, which the Government Accountability Office estimates exceeded $140 billion in 2016. It also includes the creation of an independent commission to "find tangible solutions to reduce governmentwide improper payments," a move lauded this week by a consortium of federal spending experts.
Trump's budget proposal called for the elimination of 19 agencies and thousands of federal jobs and outlines funding reductions at most federal agencies, often by significant amounts. Overall IT spending would increase under Trump's budget, but a disproportionate amount of tech spending would flow toward the Defense Department and military purposes.
That approach stymies forward-thinking federal agencies looking to invest in the talent as well as emerging technologies, such as data analytics, that can make a big dent in improper spending, Connolly said.
"It's a great goal, but how are you going to do that?" Connolly said. "You're not only not making the investments you need to make, you're doing the opposite."
Connolly said the government ought to be pursuing "upgrades in technology," not continued reliance on legacy systems. Agencies also should be free to "hire skilled people with technology and legal backgrounds" who could identify, track and eliminate improper payments.
In addition, Connolly said a slew of tech and legal vacancies has caused uncertainty at the "highest levels of government," detracting from decision-making horsepower necessary to pursue waste, fraud and abuse. Nearly one-third of CFO Act chief information officer jobs are filled with acting personnel. He also said a dearth of U.S. attorneys in the Judicial Branch was problematic because of the role they play in large-scale executive branch efforts to tackle improper payments.
Dave Mader, former U.S. Comptroller and now the chief strategy officer for Deloitte, said Congress' new goal "would be taken seriously" if technology stakeholders, administration officials and Congress communicated. The independent commission called for in Congress' budget proposal could hold that convening power.
With a "commission where you get all interested parties—if you can get Congress and the administration to come to the table with agencies, GAO, inspectors general—I think you'd have a hope of progress," Mader said.