The Secret to Better Weather Forecasts Could Be in Meteorologists' Eyes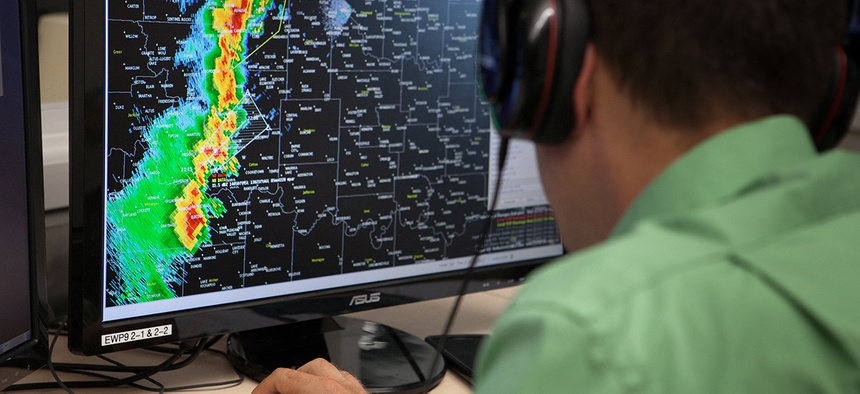 Can weather forecasters keep up with huge volume of data from radar advances and new satellites operated by the National Oceanic and Atmospheric Administration?
That's the question Katie Wilson asked. To find the answer, the meteorologist with the University of Oklahoma Cooperative Institute for Mesoscale Meteorological Studies has been watching how weather forecasters look at data.
Literally.
» Get the best federal technology news and ideas delivered right to your inbox. Sign up here.
Wilson's work involves the use of eye-tracking technologies on a group of 30 weather forecasters to ascertain how they adjust to increased volumes and refresh rates of weather data they study on video monitors. The technology was developed by Stockholm-based Tobii Pro, and consists of infrared cameras positioned below computer monitors and algorithm-driven vector analysis to track how the subject's eyes move across a screen. 
"We can replay what those eye movements look like, and look back in time at where they were looking, and that can tell us about the type of information that was important to the forecaster at any time," Wilson told Nextgov. "We can look at the connection between eye movement and cognition."
Wilson's work, in partnership with the National Severe Storms Laboratory, further explores the cognitive load forecasters feel disseminating information at various volumes and intervals. Does more data lead to better forecasts?
One of the goals, Wilson said, is to determine whether faster radar data positively or negatively impacts how quickly forecasters digest data to produce storm warnings for weather events like tornadoes.
Wilson's research could be vital. NOAA is the federal agency that gathers and distributes the raw data weather forecasters use to predict everything from sunny days to imminent storm warnings. But forecasters will be flooded with new data soon. With the rollout of new phased array radar and new satellites on the way, NOAA will produce up to six times more information to forecasters.
Wilson told Nextgov she hopes to publish conclusions this fall. Early indications, she said, suggests more data does lead to improvements in warning-time issuances and accuracy.
"We don't have solid conclusions yet, but we are seeing the data is extremely useful in determining where differences [in how forecasters perceive more data] exist," Wilson said. "It's an accurate way to look back and assess attention distribution."
In any case, Wilson said the work has confirmed eye-tracking technology is more objective than simply asking forecasters to remember what they looked at and why. It also indicates where forecasters have difficulty with on-screen interfaces.
Further research could be used to improve the user experience for forecasters who stare at screens all day.
"As we look at new technologies and new products, we need to look at new ways to display these things," Wilson said.