GDIT launches tech strategy focused on 'accelerators'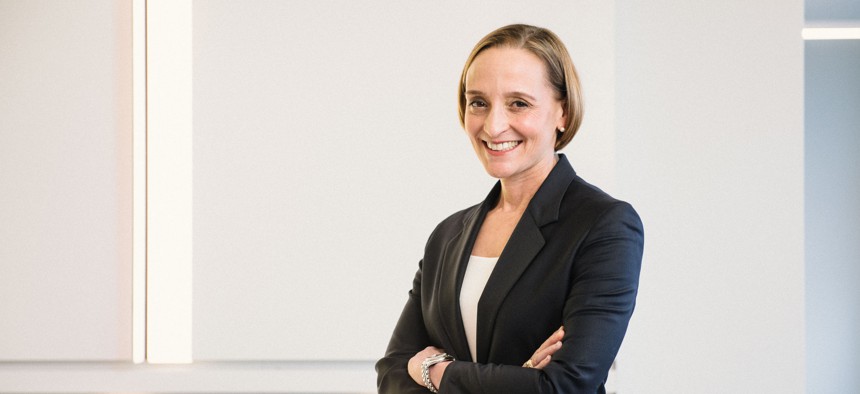 General Dynamics IT has launched a new technology strategy that will see it focusing investments, partnerships and internal resources around a set of six technologies that the company calls "digital accelerators."
Those are zero trust, automation for IT operations, multi-cloud management, software factory, 5G and mission-focused artificial intelligence and machine learning.
"It is pretty clear the needs of our customers are changing," said GDIT President Amy Gilliland.
The changing geopolitical environment and national security challenges coming from China and Russia are putting pressure on U.S. defense and intelligence agencies.
"What we are learning from Ukraine and Russia and China is that they are dictating an increased pace and requirement workload for our customer that is pretty clear," she said.
GDIT is already supporting that work. The company is running an intelligence-sharing program for one customer, who has seen a 20-fold increase in intelligence products since the war in Ukraine began.
"When you see that kind of increase in requirements to deal with all that information, you know you can't do it the same way you did it before," Gilliland said.
There also are more mandates for GDIT's customers, such as zero trust.
"That essentially is saying that we need to have identity credentialing and management that makes sure people are on a need-to-know basis in terms of what information they have access to," she said.
The needs of the mission are GDIT's primary motivator for creating this new tech strategy.
"All of our investments start with what the customer is telling us and what the budget is telling us," she said. "When you triangulate those conversations, it comes down to these technologies and that's why we're focused on them."
As part of its investment strategy, GDIT is expanding the research and development labs it has around the country. For example, the Deepsky Lab in St. Louis, Missouri, is supporting geospatial mission partners. The Cyber Emerge Lab in Falls Church, Virginia, is working on zero trust.
In the fall, GDIT announced a coalition with five commercial technology companies–Amazon Web Services, Cisco, Dell Technologies, Splunk and T-Mobile–to work on 5G and advanced wireless and edge-computing technologies.
GDIT has a 5G lab that customers can tap for demonstrations and development work.
"That underscores that customers aren't interested in PowerPoint slides. They want to come and see the technology demonstrated," she said.
The tech strategy also has an employee component. Last year, the company launched what Gilliland described as a Netflix-like portal where employees can upload their resumes and use filters to track open positions in the company. Filters include certifications, security clearances and preferences.
The career hub as they call it, also tells employees what they need to do to qualify for a position they are interested in. This guides them toward training and certifications they may need.
"Managers still have a responsibility to develop employees but here employees also can help themselves figure out what could be next for them," Gilliland said.
And it's working, she said. In 2022, more than 5,500 GDIT employees moved internally to take on new jobs at GDIT, she said.
The company also says it has quadrupled the number of professional certifications in relevant areas like cyber, AI and cloud.
The tech investment strategy also grew out of some self-reflection practices.
"With every win and every loss, we evolve because we ask, why did we win? Why did we lose," Gilliland said. "We found that we needed to invest in ourselves to mature and build out the solutions and frameworks so that we could bring them to the customer quickly."
And while the strategy is focused on the six technology areas, Gilliland is already looking ahead thanks to the feedback and insights she is getting from her digital consultants, technologists and the operators in the business units.
"We are investing in two new areas this year: defensive cyber operations and post-quantum encryption capabilities," she said. "We are working on them now but in terms of large-scale implementation, they are probably a little further into the future."