DHA preps for MHS Genesis follow-on contract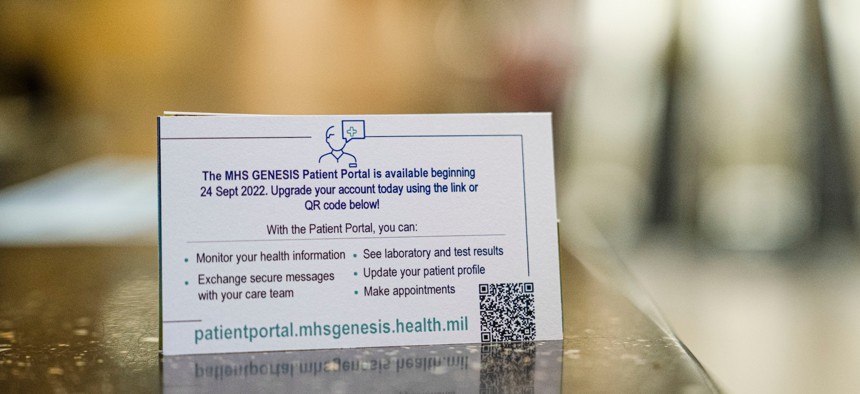 The Defense Health Agency is kicking off market research for a follow-on contract for its $5.5 billion MHS Genesis program, the agency confirmed to FCW. 
The contract, which spans 10-years and includes a team of contractors charged with delivering and integrating the Cerner electronic health record into the work of more than 200,000 care providers and 9.6 million beneficiaries.
The MHS Genesis deployment is scheduled to wrap up this calendar year, and the ordering period on the contract ends in July 2025. 
The initial contract, awarded in 2015, was won by a team led by Leidos and joined by Cerner (now part of Oracle after a $28 billion acquisition that closed last year), Accenture and Henry Schein. The award instantly elevated the market profile of Cerner, and put it in line to win a sole-source contract from the Department of Veterans Affairs to put the care of veterans on the same electronic health record system.
In a contracting notice released April 6, the program management office that runs MHS Genesis wants to hear from vendors on the levels of integration required to sustain a commercial IT system inside the Defense Department enterprise, their ability to work at the scale required by the multibillion dollar MHS Genesis program and best practices for managing health data in the cloud, methodologies for managing health record interoperability, training new and current users on new capabilities and more.
The original contract that launched MHS Genesis had Leidos as the prime contractor, with Cerner as the supplier of the software and computing infrastructure. However, VA's electronic health record contract has Cerner in the prime position with other vendors contributing to program management. 
The Defense Health Agency didn't indicate whether the follow-on to MHS Genesis would maintain the structure of having an integrator in the prime role with the software vendor as part of the team. A spokesperson said DHA was currently "in the initial stages of market research."