NASA is looking for a vehicle to help deorbit the space station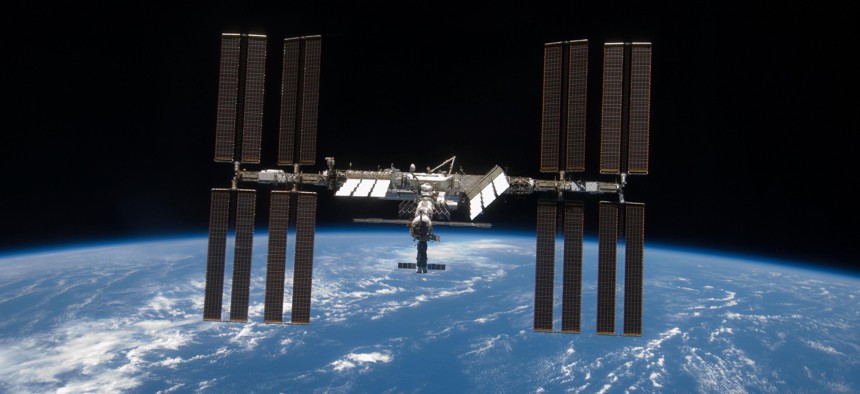 NASA is looking for industry partners interested in helping the agency deorbit the International Space Station (ISS) when it is set to end its mission in 2030.
The space agency is looking to partner with industry in designing a vehicle to dock with the space station during its final year of operation and ensure a controlled reentry of the station through a pre-defined, uninhabited corridor on Earth and reducing any risk to the public.
The agency hosted an industry day earlier this month where it explored the various technical details surrounding the deorbit process for the station, which is nearly the size of a football field, with portions of the structure initially launched into space in 1998 on a Russian proton rocket. The station and the entirety of its components were over the course of a decade in an effort involving 30 different missions. 
The agency wants to create a plan for a controlled reentry that mitigates risks by decrewing space station personnel "as late as possible," and by potentially using Russian spacecraft to provide debris avoidance and altitude control capabilities, according to a presentation shared at the virtual event and later posted to SAM.gov. 
While the station is expected to descend naturally during its final year of operation, the deorbiting vehicle will dock with it for one year and will perform the final deorbit burn to direct it to the designated reentry point. 
"NASA will identify the target reentry for an uninhabited area of the ocean with a capture perigee of 50 km, ensuring a debris footprint of less than 6,000 km," the agency said in its presentation to industry. 
Because of the safety needed for the controlled descent, the deorbit vehicle will require "complex software development including autonomous operations and failure response late in the deorbit phases" and be capable of functioning in both crewed and uncrewed situations on the ISS. 
The agency initially asked for companies to provide information about their deorbiting capabilities, and whether they could potentially help to safely reenter the ISS back into Earth's orbit, in a request for information in August. 
NASA wants a deorbiting solution in place at least a year before the space station is set to end its mission in 2030 "to protect for contingencies that could drive early re-entry and beyond 2030 in the event of further [station] mission extensions," the agency said.
NASA has also said it is potentially planning to release a Request for Proposals (RFP) for commercial partners to help with the deorbiting process for the space station.