What's going on at NITAAC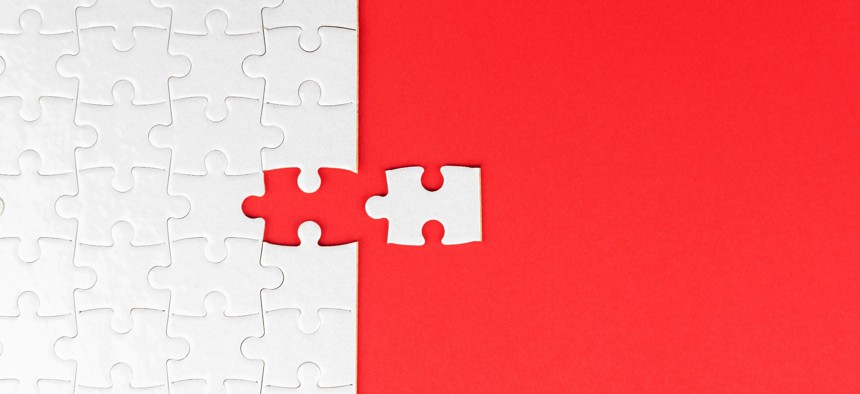 The National Institutes of Health's governmentwide acquisition organization supports much more than HHS
The multibillion-dollar technology acquisition operation run out of the National Institutes of Health has been around since such services were authorized under the Clinger-Cohen Act of 1996.
The full name of the organization — a mouthful even by government standards — is the National Institutes of Health Information Technology Acquisition and Assessment Center. NITAAC operates three governmentwide acquisition contracts (GWACs) for IT solutions, services and commodities — or hardware, software and people. 
The center was created to serve NIH and its parent agency, the Department of Health and Human Services, with biomedical engineering services, health technologies and basic commodity technology products. HHS is still one of NITAAC's business customers, but the organization has expanded to serve civilian agencies and the Defense Department.
"We've been around for a long time, and our objective is to provide low-cost, high-quality IT products and services for the entire federal government," NITAAC Deputy Director Ricky Clark told FCW.
Clark, a Navy veteran, has wide-ranging experience in federal procurement. He started his acquisition career in the military at the 87th Contracting Squadron at Joint Base McGuire-Dix-Lakehurst. Prior to joining NITAAC a little more than a year ago, he served in senior positions at the Department of Veterans Affairs and the Government Publishing Office. 
NITAAC is largely staffed by contractor employees. More than 120 contractors directly support the program, compared with 24 feds when fully staffed. Clark said the mix helps the program offer support from highly credentialed acquisition professionals to agencies that might not have in-house expertise. Although NITAAC is big, with three major contract vehicles that collectively boast a $60 billion ceiling value, Clark said service is a major focus.
"We're large enough to offer a bunch of resources…for any agency to meet their IT service needs, but we're small enough to still provide that personal touch," he added. "We don't have schedules, but we have our customers."
NITAAC isn't the cheapest GWAC. NASA's Solutions for Enterprise-Wide Procurement boasts the lowest user fees. NITAAC's CIO-CS contract is competitive with SEWP's fees and focuses on commercial-off-the-shelf products and infrastructure, including cloud and mobility solutions. NITAAC's signature CIO-SP3 and CIO-SP3 Small Business contract vehicles are a little pricier, however.
One key advantage of the NITAAC vehicles is the focus on small companies, Clark said. They make it easier for agencies to hit their contracting targets for the use of woman-owned, minority-owned and veteran-owned companies.
"NITAAC is a conduit for a lot of federal agencies to reach their socioeconomic goals," he added. "Our partnership with our small-business community is second to none. Over 77% of our contract holders are small businesses. So what we do is we offer an avenue for agencies that are having difficulties meeting the socioeconomic goals." 
Clark said he frequently takes to the road to encourage small companies to invest in winning NITAAC contracts as a prime or subcontractor.  "Just this month alone, I probably sat on three panels for small businesses," he said. "I think the optics of what you offer is probably more important for a small business. And my pitch to most small businesses is, first and foremost, know what you're good at." 
He said he is particularly interested in identifying small-business contractors that specialize in cybersecurity and telecommunications, where they're currently underrepresented. 
NITAAC is in the process of selecting contractors for CIO-SP4, the successor to CIO-SP3. Contract awards are behind schedule because of multiple revisions to the mentor/protégé arrangements included in the solicitation. Those arrangements pair a burgeoning company with a more experienced government contractor to assist with growth and development. The Small Business Administration authorizes mentor/protégé arrangements with an eye to growing small-business participation in federal contracting. However, the initial version of the CIO-SP4 solicitation confused many potential participants about how their joint ventures would be evaluated for contract award purposes. 
NITAAC isn't the only contract vehicle to suffer delays as a result of confusion about mentor/protégé arrangements. The $15 billion Polaris solicitation from the General Services Administration was paused and eventually restarted in June because of concerns about how mentor/protégé joint ventures would be evaluated.
As of this writing, the CIO-SP4 solicitation is still under protest from at least one vendor, and Clark said he had to be "deliberate" in his responses to questions about flaws in the original solicitation. But he acknowledged that "a lot of recent changes are creating some ambiguity" for government officials and bidders alike. Changes include policy goals set by the Biden administration to dramatically increase the share of federal contract spending that goes to small disadvantaged businesses and the executive order on cybersecurity, which is commanding a great deal of attention from agency CIOs.
As a result of the delays, NITAAC has extended the period of performance on CIO-SP3 and CIO-SP4. Awards for CIO-SP4 are now slated for November, according to the most recent update on NITAAC's website. It is also slated to be a much richer contract than its predecessor, with a ceiling value of $50 billion. 
"Because it's focusing on enabling emerging technologies — things such as cybersecurity technology — as our software development and as-a-service solution, we wanted to make sure that we had enough space for the vehicle to extend those services," Clark said. "Especially in IT, things change really quickly, so we want to have a vehicle that's agile enough to change with the times."