NASA chief calls out the 'plague' of cost-plus contracts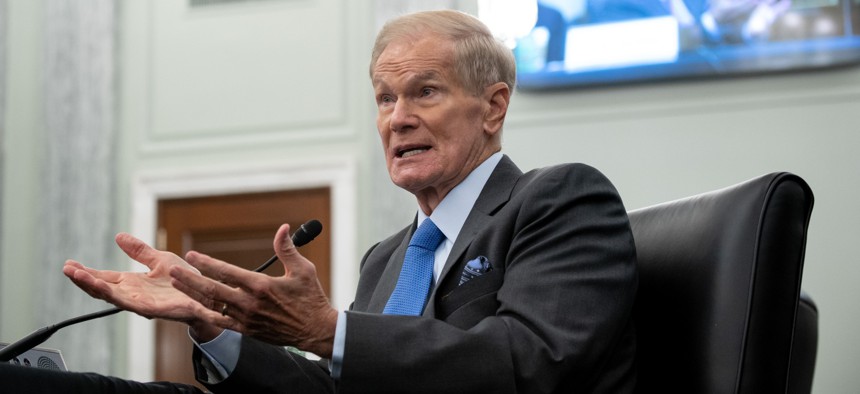 NASA is working to move away from cost-plus contracts as part of an effort to reduce its cost and schedule overruns.
NASA Administrator Bill Nelson described cost-plus contracts–in which no guaranteed maximum price is set, and profits are typically based on a percentage of overall expenses–as a "plague" from the past in testimony to the Senate Appropriations Subcommittee on Commerce, Justice and Science and Related Agencies.
"There is no excuse for overruns," Nelson said this week, addressing a Government Accountability Office report that indicated NASA projects are currently experiencing their largest schedule and cost overruns since the agency began reporting the information in 2009. "But the old way of doing things was always cost-plus."
The administrator said he appointed NASA Deputy Administrator Pam Melroy, a retired Air Force colonel and former astronaut, to serve as NASA's chief acquisition officer "to elevate the importance of acquisition," and established a new chief program management office to improve oversight of its program management policies and enterprise. 
The agency has already seen success in substituting cost-plus contracts with competitions and fixed-price contracts, he added, noting how SpaceX was "the most economical" of vendors which competed and was ultimately selected for the opportunity to land an uncrewed commercial lunar lander on the moon. 
NASA is now in the initial stages of launching a similar process to fulfill the president's request of starting competition for a human lunar lander mission. 
"I believe that that is the plan that can bring us all the value of competition," Nelson said. "You get it done with that competitive spirit. You get it done cheaper. And that allows us to move away from what has been a plague on us in the past, which is a cost-plus contract, and move to an existing contractual price."
The White House is seeking nearly $26 billion for NASA in its fiscal year 2023 budget request, an approximate 8% increase from the year prior, including $1.4 billion for space technology and $224 million for the development of commercial space stations. The increased investments in commercial space activities will help the U.S. space industry grow, while creating jobs and reducing costs, the agency said in a press release. 
Nelson told lawmakers he was committed to finding new ways to reduce overruns and working with GAO to ensure an eventual end to cost-plus contracts, adding: "I think we're beginning to make some progress in closing out the GAO recommendations related to strengthening this acquisition process."