GSA preps draft solicitations for major cloud BPA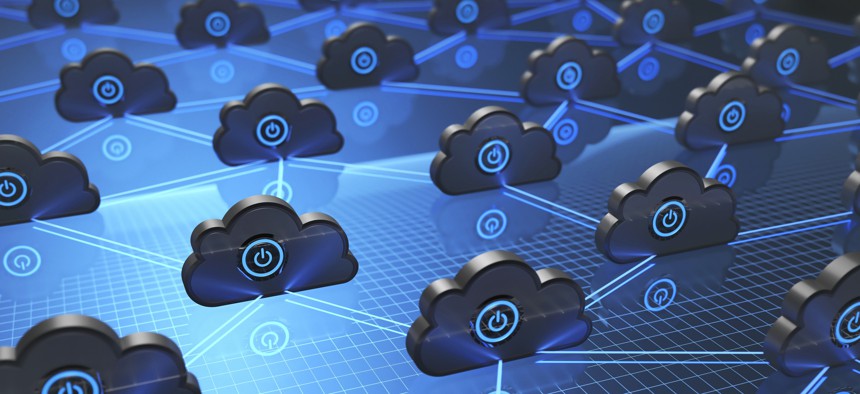 The General Services Administration released new details this week about an upcoming multiple-award blanket purchase agreement to help speed up enterprisewide modernization initiatives and meet increased demand for secure commercial cloud products and services.
The General Services Administration has not yet finalized a timeline to launch a planned multiple-award blanket purchase agreement next year for federal agencies and state and local governments to procure a variety of commercially available cloud infrastructure, storage, software and services.
GSA said in a notice this week that a previously published timeline for the upcoming acquisition strategy was incorrect, and that any awards through the BPA will only be made after the agency issues draft solicitations and hosts industry days "to allow industry the opportunity to review, ask questions and provide additional feedback on the proposed requirements and acquisition approach."
The acquisition strategy will be divided into three phases, with the first pool of awards focusing on Infrastructure as a Service (IaaS) and Platform as a Service (PaaS). The second and third phases will focus on Software as a Service (SaaS) and Cloud Professional Services respectively. 
All three pools have anticipated award dates in 2022. 
The new cloud purchasing vehicle is part of GSA's efforts to further expand commercial cloud service offerings on a pay-as-you-go basis, as federal agencies replace legacy IT software and products. Plans for the BPA were first announced in May.
GSA was considering including anything-as-a-service (XaaS) offerings within the planned acquisition model to allow for future cloud services as new software and products are developed, according to a request for information the agency released in May. However, the wide-ranging category – which encompasses an array of tools, technologies and remote data access services – was not featured in any of three phases for the new contract. 
"The number-one thing agencies ask for is an acquisition solution that offers a full set of commercial, secure, soup-to-nuts, cloud products and services," GSA IT Category Deputy Assistant Commissioner Keith Nakasone said in a statement accompanying the RFI. "We think now is the right time to make it happen."
Some procurement experts responded to the RFI earlier this year with concerns that the new BPA could cause duplication, including Roger Waldron, president of the Coalition for Government Procurement, who wrote in a blog post in May that GSA appeared to be "competing against itself" while "undercutting its overall approach to the federal customer."
Still, GSA conducted market research to accompany its RFI which showed an increased demand among agencies for secure commercial cloud products and services. The agency said that demand had been exacerbated in part by the COVID-19 pandemic. 
The White House cybersecurity executive order titled "Improving the Nation's Cybersecurity" instructed agencies to "accelerate movement to secure cloud services," leveraging the government's procurement powers to increase transparency into cybersecurity threats and breaches. 
The federal government spent $6.6 billion on cloud services in fiscal year 2020, according to data from Bloomberg Government, up from $6.1 billion in 2019, while federal cloud spending was reportedly expected to surpass $8 billion in FY 2021.