Biden executive order calls for 65% drop in federal government emissions by 2030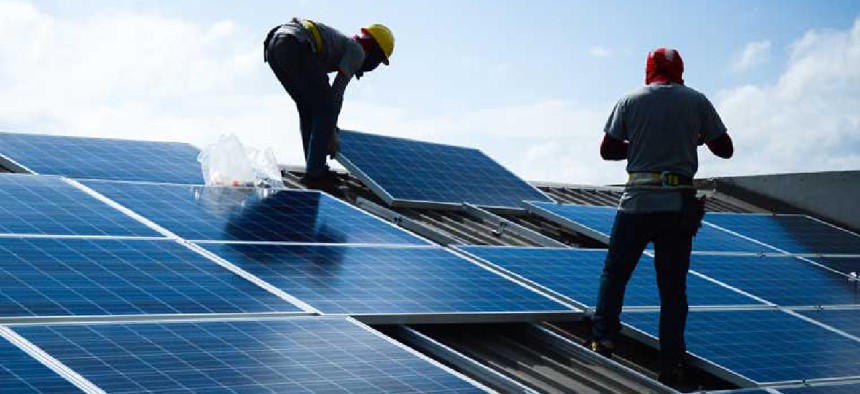 A White House executive order issued on Wednesday looks to leverage the federal government's procurement powers as the largest buyer in the world to address climate change and set government operations on a path to net-zero energy emissions.
The executive order titled "Catalyzing Clean Energy Industries and Jobs through Federal Sustainability," included five key commitments, from transitioning all federal infrastructure to zero-emission vehicles and buildings, to achieving net-zero emissions for federal procurement and government-wide operations by 2050.
To reach that deadline, which the United Nations has set for governments and businesses around the world as a target for preserving a sustainable climate, the Biden administration proposes to require federal agencies to commit to 100% zero-emission vehicle acquisitions by 2035 and a net-zero emission buildings portfolio by 2045.
Those changes, in addition to increasing the sustainability of federal supply chains, will sharply reduce emissions while creating new jobs and a sustainability-focused workforce, the White House said in a fact sheet about the executive order.
Shalanda Young, acting director of the Office of Management and Budget (OMB), issued an accompanying memorandum to agency leaders on Wednesday with instructions on how to begin implementing the executive order, featuring a list of deadlines and annual targets to ensure government-wide progress around the administration's clean energy initiatives.
The memo included annual requirements for agencies to submit updated strategic plans to achieve a zero emission fleet of federal vehicles. The government currently maintains a fleet of nearly 600,000 cars and trucks, in addition to a portfolio of 300,000 buildings.
Additionally, the memo spells out the requirement for agencies to designate a senior official as chief sustainability officer within 30 days of the issuance of the order. That official should have "the authority to ensure allocation of resources to effectively implement the [executive order," and will take responsibility for, among other activities, coordinating with leaders including CIOs and chief financial and acquisition officers to achieve the policy goals of the order.
OMB also called on agencies to use data analytics while conducting capital planning and building retrofits in order to achieve the executive order's goal of a net-zero emissions building portfolio by 2045, and said plans must ensure fossil-fuel consuming equipment was replaced with carbon pollution-free energy technologies.
The administration teased plans in its "Biden-Harris Management Agenda Vision" released last month to improve the federal acquisition system to better address the issue of climate change, and has included investments to modernize federal buildings and convert the federal vehicle inventory throughout its legislative agenda. If successful, the executive order will lead to a 65% reduction in emissions by the end of the decade, and by 2035, the federal fleet will consist entirely of all-electric cars and trucks.