Pentagon advances domestic drone plan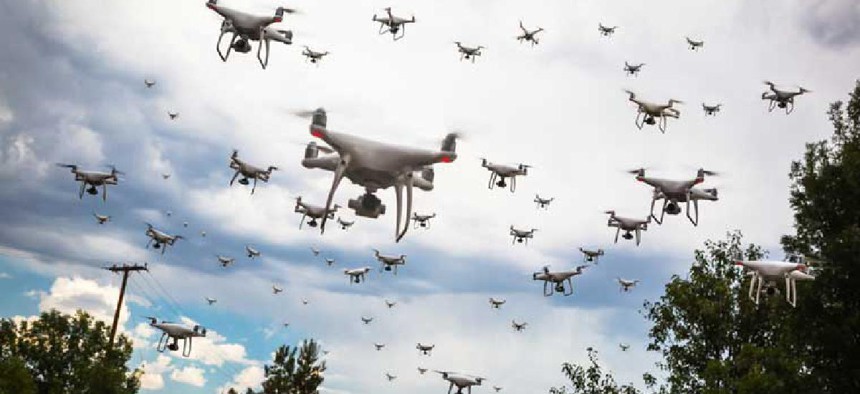 The Defense Department names five U.S. vendors for domestic sourcing of small drone aircraft.
Optional caption goes here. Optional caption goes here. Optional caption goes here. Optional caption goes here.
The Defense Department's technology innovation unit announced five small U.S.-based drone vendors to develop rival products to cheap Chinese-made unmanned aerial systems under an accelerated development program at the agency.
The move is part of a larger push to develop domestic alternatives to Chinese drones, which have been banned for use by DOD and in other federal agencies.
Airborne Short Range Reconnaissance (SRR) drones made by Altavian, Parrot, Skydio, Teal and Vantage Robotics will be available through the General Services Administration's buying schedules in September, said an Aug. 20 statement from the Defense Innovation Unit (DIU).
DOD agencies can also get a production contract using an Other Transaction Authority, to leverage the DIU's Commercial Solution Opening scaling option.
The companies' aircraft were part of DIU's efforts with the Army's SRR development program for an "inexpensive, rucksack-portable, vertical take-off and landing small unmanned aircraft" that small personnel units can quickly deploy. DOD's program to develop a stable of vetted and tested western drone makers that can fill the bill is loosely called "Blue secure small Unmanned Aircraft Systems (sUAS)" which mirrors the SRR's vehicle profile and software, according to the statement.
"Blue sUAS represents a tremendous first step toward building a robust and trusted UAS domestic industrial base that ensures sustained delivery of highly-capable, secure UAS to the warfighters that depend on it," said Michael Kratsios, acting undersecretary of defense for research and engineering in the DIU statement.
Blue sUAS-developed drones, said the statement, also offer broader, vetted capabilities, including alternative ground controller and radio configurations that a wide variety of users across the federal government can use.
SRR and Blue sUAS, said the statement, comply with the 2020 NDAA's rules that prohibit procuring or operating Chinese-made unmanned aircraft systems.
In May, Essye Miller, formerly principal deputy CIO at DOD, described an Army program under which five vendors were using DOD's "Blue UAS" architecture in a trial to develop drone reconnaissance aircraft.
She explained that the Blue UAS architecture was developing an open-source, industry standard for small drone command and control capabilities that will allow manufacturers to snap in new software for new capabilities, in a more agile fashion, instead of pushing through a long development time line.