At CHESS, Army gets flexible on contracting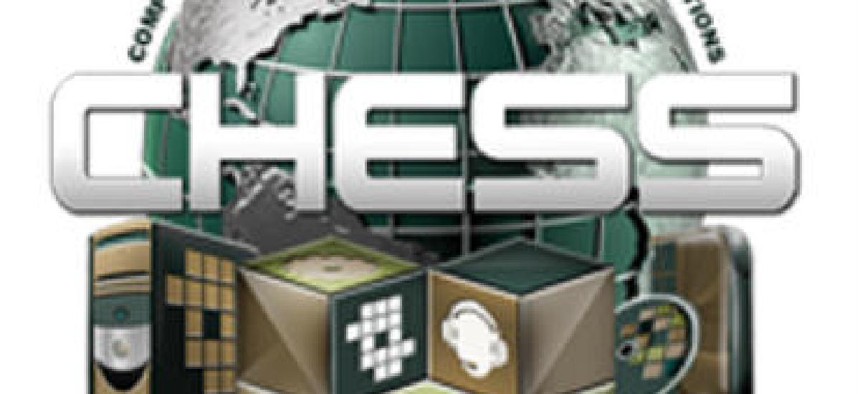 In recent years, a set of Army contracting vehicles has shaken up federal acquisition practices by allowing more flexibility in buying IT goods and services. Now the contracting regime, run by the Army's Computer Hardware, Enterprise Software and Solutions (CHESS) outfit, is moving into a new phase with potentially big implications for federal IT contracting.
In February, CHESS' partner -- U.S. Army Contracting Command-Rock Island -- issued a request for proposals for IT Enterprise Solutions-3 Services. The ceiling on ITES-3S is $12.1 billion, and the aim of the contracting vehicle is helping the Army transition to the Joint Information Environment, a Defense Department-wide effort to standardize and consolidate IT networks.
Cloud computing and other services ordered through ITES-3S will make tangible the otherwise abstract JIE endeavor.
Contract awards under ITES-3S aren't expected until the second quarter of fiscal 2018, and CHESS officials did not want to prematurely discuss the program. However, Thomas Neff, former product lead at CHESS, said ITES-3S is likely to include cloud and cybersecurity requirements that weren't around when ITES-2S was created in 2006.
ITES-3S will have the same basic mechanics that other CHESS contracting vehicles use. Namely, it is free for contracting officers to use, it relies on a decentralized ordering process, and it encourages agencies to drive a hard bargain for discounts with vendors.
In that sense, ITES-3S will draw on the institutional contracting knowledge CHESS has built through other vehicles.
Bargaining power
One of those vehicles is ITES-3 Hardware, which finalized its awards and began taking orders in February.
Under the $5 billion vehicle, "the prices are established on the contracts with each vendor…but there are additional discounts that are available," said Deidre Harris, ITES-3H's product leader, during a recent presentation to contracting professionals. "So we like to remind our contracting officers that they should negotiate even deeper discounts if possible."
ITES-3H is a one-stop shop for buying desktops and notebooks en masse. The vehicle can also be used to buy products such as servers, routers and switches that can't be acquired elsewhere, Harris said. Dell Federal Systems and HP are among the vendors selling products under the vehicle.
ITES-3H was set to replace its predecessor in 2014, but a series of bid protests delayed the program. It is meant to be all-encompassing for hardware, but requirements that don't fall under the vehicle can be fulfilled through another CHESS program known as Army Desktop and Mobile Computing-2. ADMC-2 is hardware-focused and generally used to replace outdated products.
Refreshing tech
The Army was accepting bids for an ADMC-3 RFP until July 12. The new contract will allow agencies to order year-round rather than the twice-a-year arrangement for ADMC-2. That change, which vendors asked for, is meant to help the Army keep pace with advances in technology, said Stacy Watson, director of the CHESS Enterprise Solutions Division.
In addition, Harris said ITES-3H has a built-in refresh button "so as new products become available, the contractors can immediately put them on the contract, so you don't have to wait three months or six months or a year for a new product."
CHESS began making a reverse auction tool available for ADMC-2 in January to further increase savings. Officials offer tutorials to help contracting officers who are unfamiliar with such auctions.
"Every buyer, they have their comfort level with a certain tool that they have been using," said Sammi Foong, former acting product lead at CHESS and now product lead for the Army's Force Management System. "So it's a matter of converting that group of people into using it via CHESS."
A cog in the wheel
CHESS is but one cog in a contracting wheel that must be well synced to work. There are no contracting officers in CHESS; Army Contracting Command takes care of that. The Army CIO's office and Army Network Enterprise Technology Command, meanwhile, provide policies and standards that CHESS must meet.
Harris said vendors have a big incentive for complying with Army standards, which takes some of the hassle of monitoring compliance out of CHESS' hands.
"We can't police all 17 vendors and all of the sales that go through," she said of ITES-3H. "So we basically remind the contractors that if they sell products that are not in compliance, the government cannot use them. And that is definitely a bad mark against that company."
Officials said CHESS strictly adheres to its mandate of providing contracting vehicles and does not veer into policy or procurement.
Watson said there is a practical reason for that approach: Contracting officers know their requirements far better than CHESS officials do, "so they're able to negotiate better pricing, negotiate the terms and conditions that fit their requirement better than CHESS could ever do."
The contract template that CHESS provides, with its established terms and conditions, saves contracting officers the time and energy of putting together their own contracts from scratch.
"The process is streamlined and decentralized for the customers, so it cuts out a whole lot of work that…the customers would have to do," Harris said.
CHESS officials pride themselves on the flexibility of their contracting vehicles. That feature and the no-fee structure have made ITES-2S a backup plan of sorts for agency contracting. CHESS officials hope ITES-3S will be even more effective in getting billions of dollars worth of contracting right.